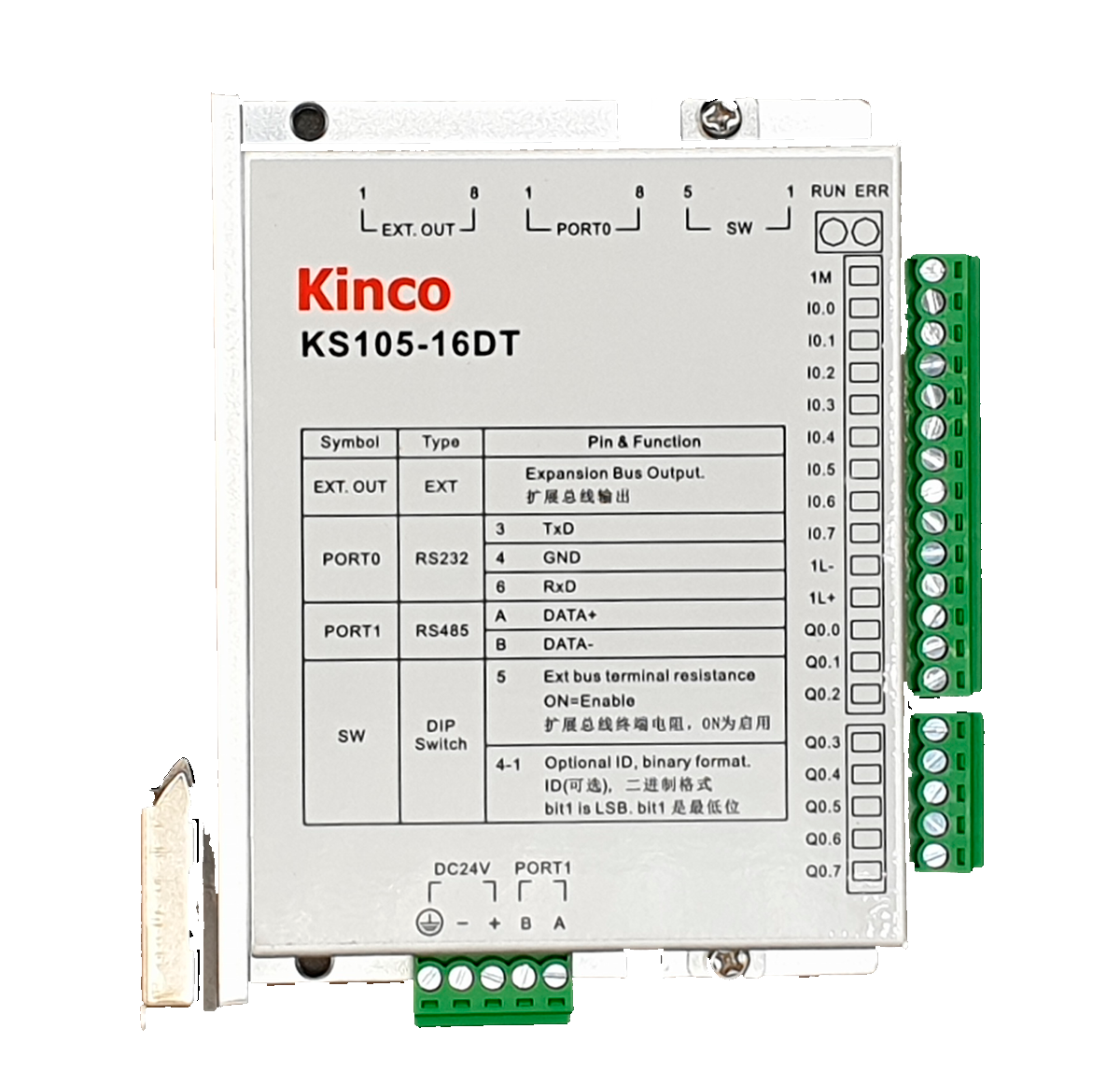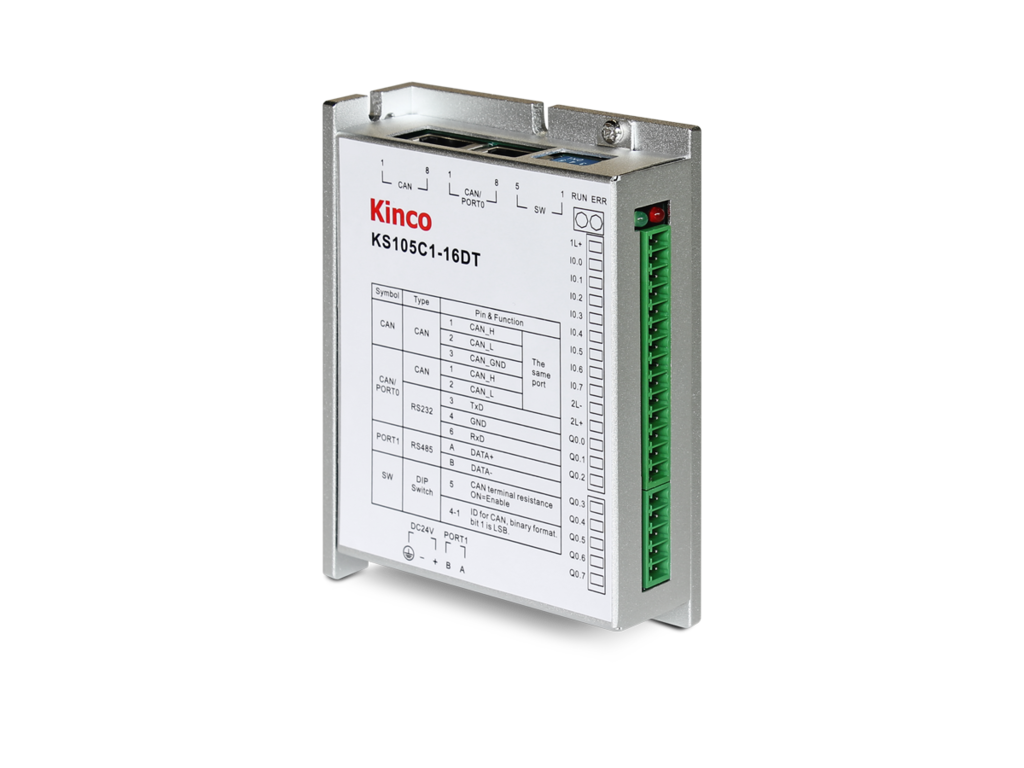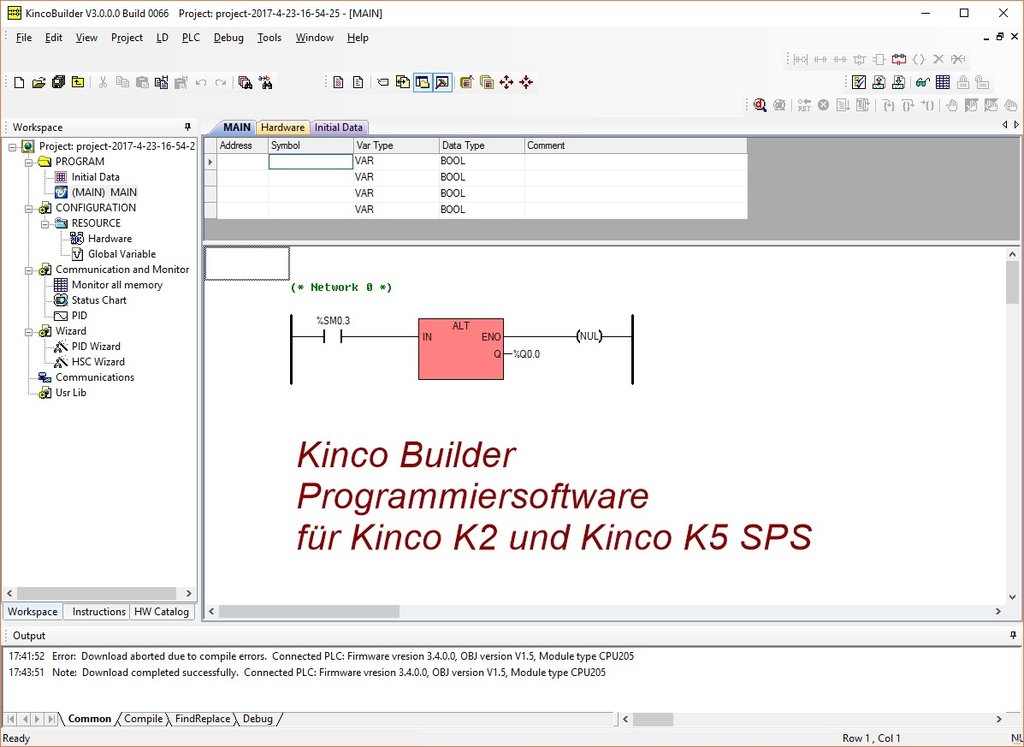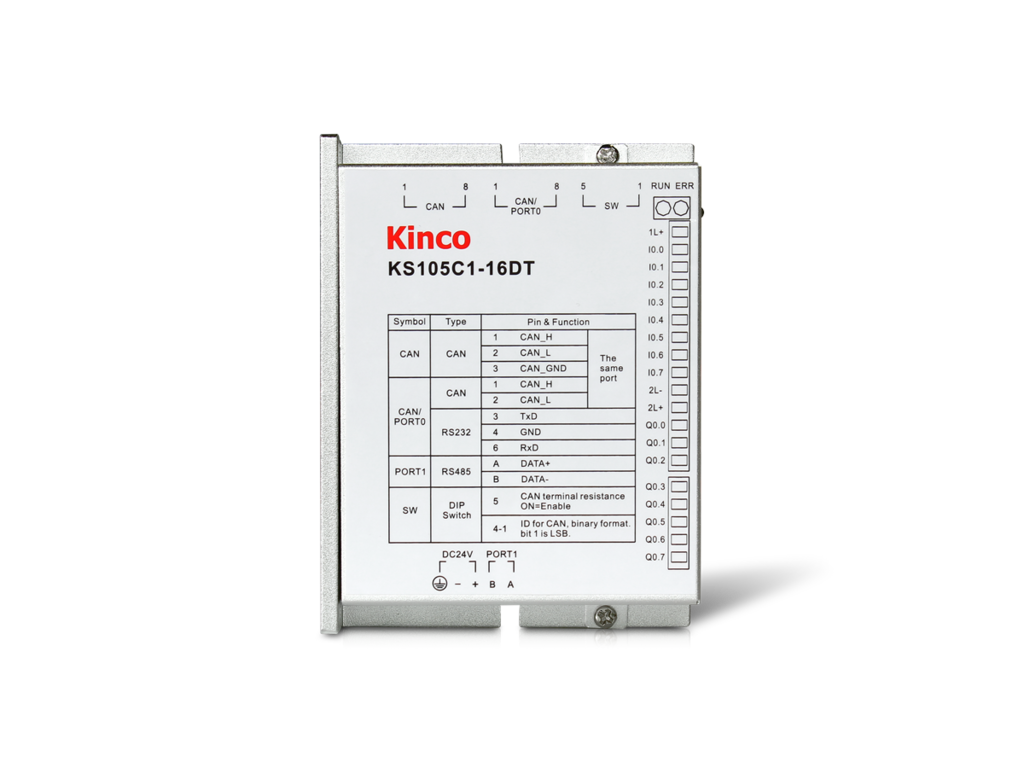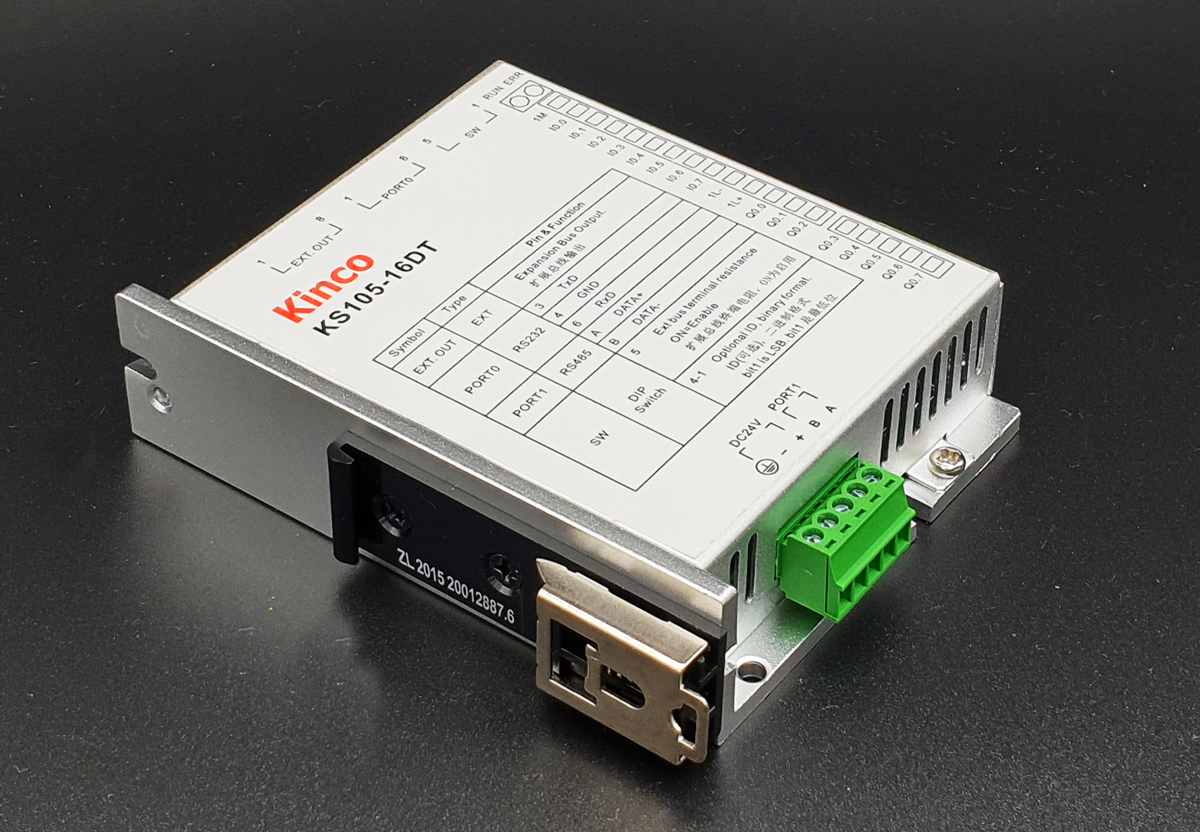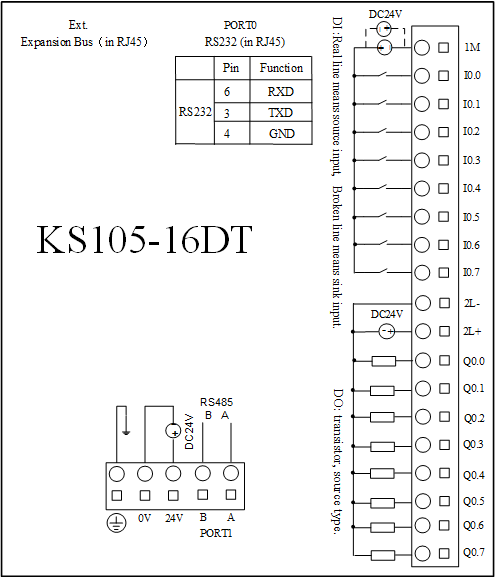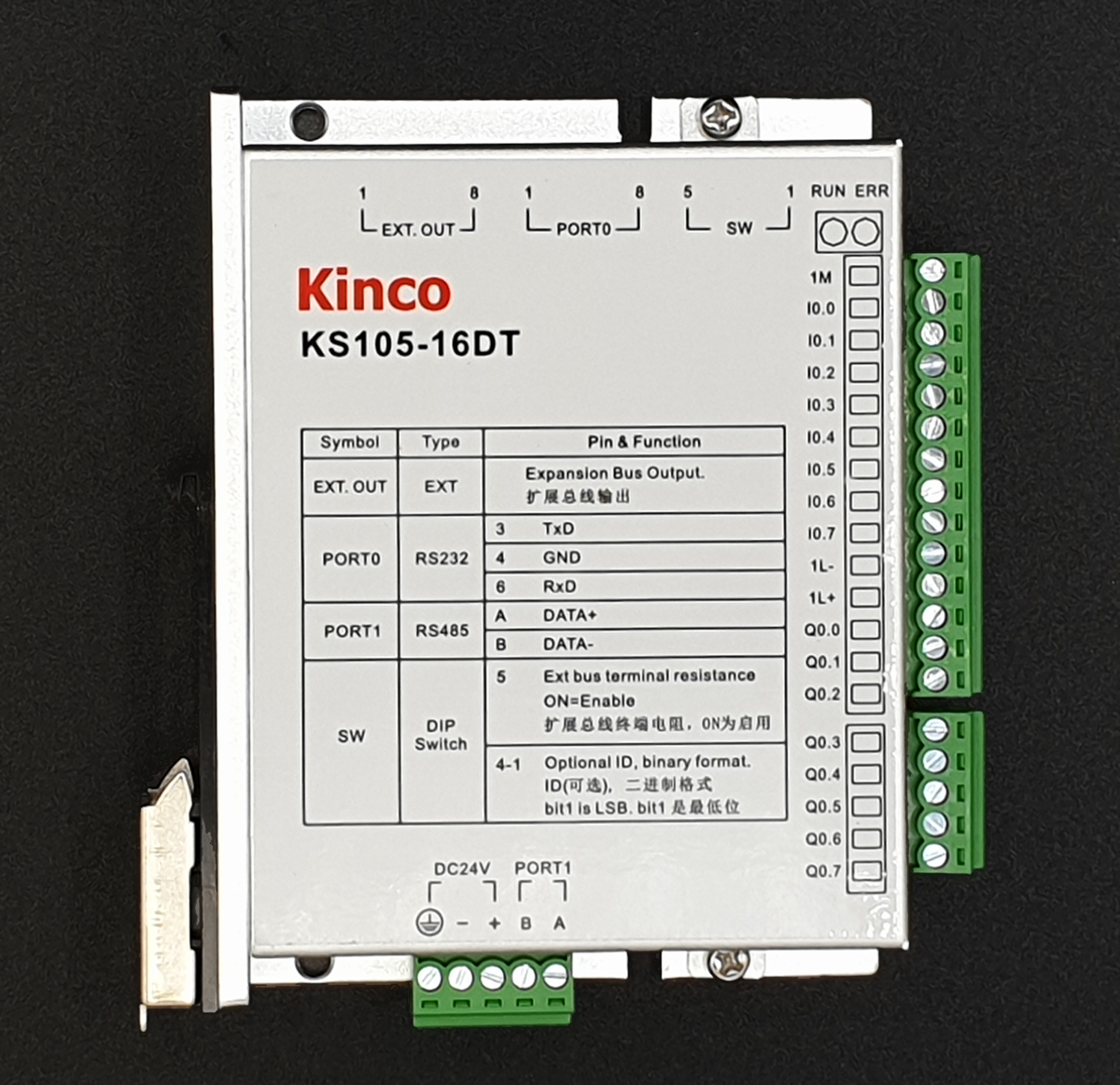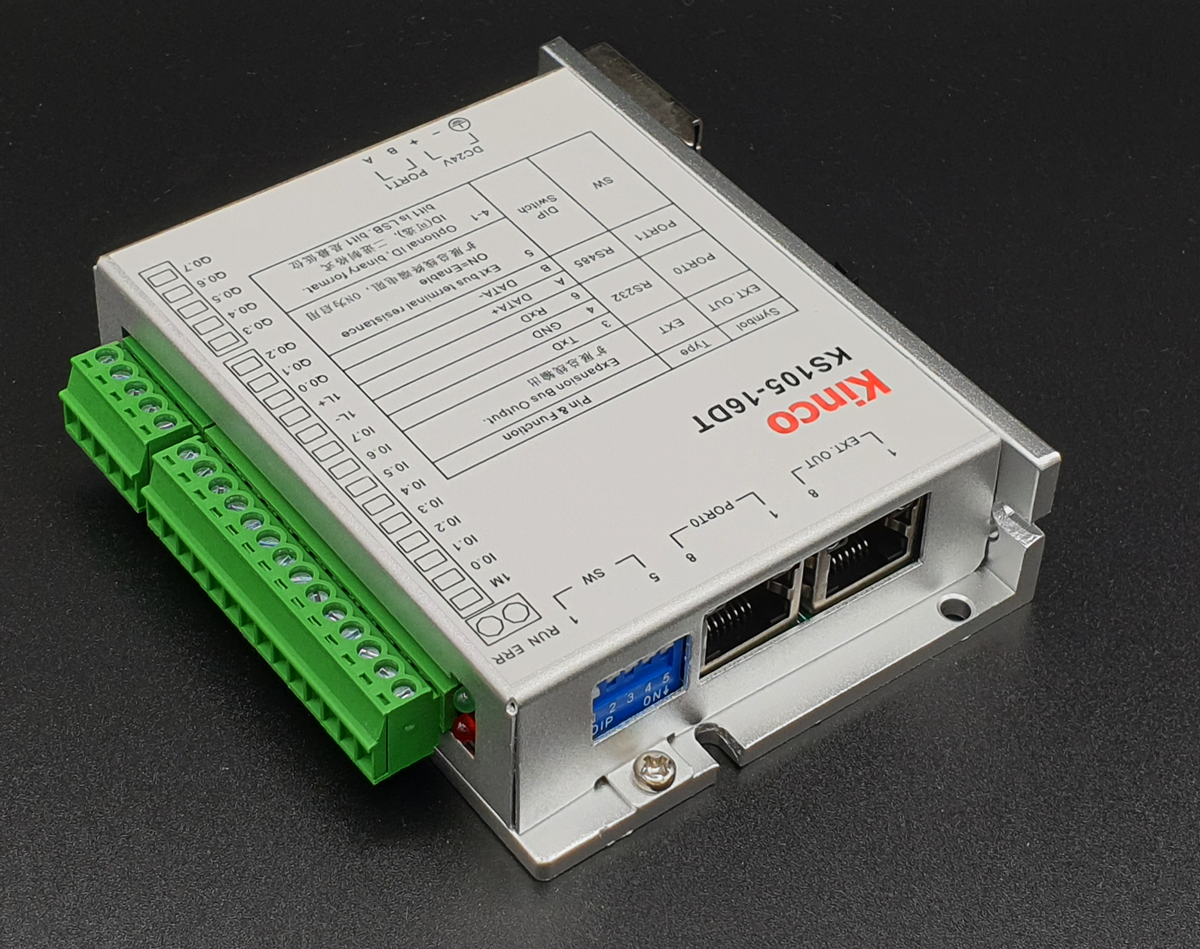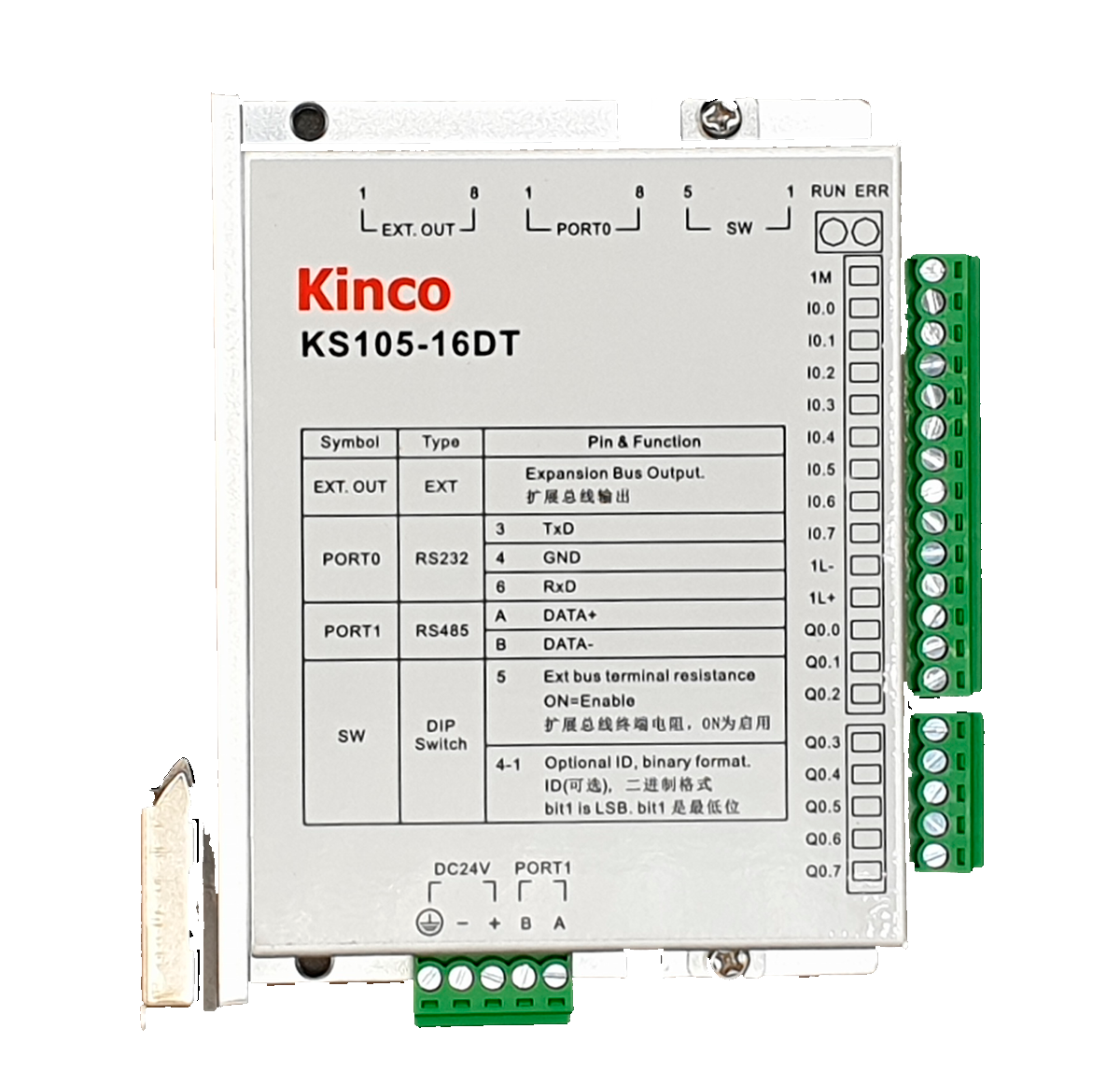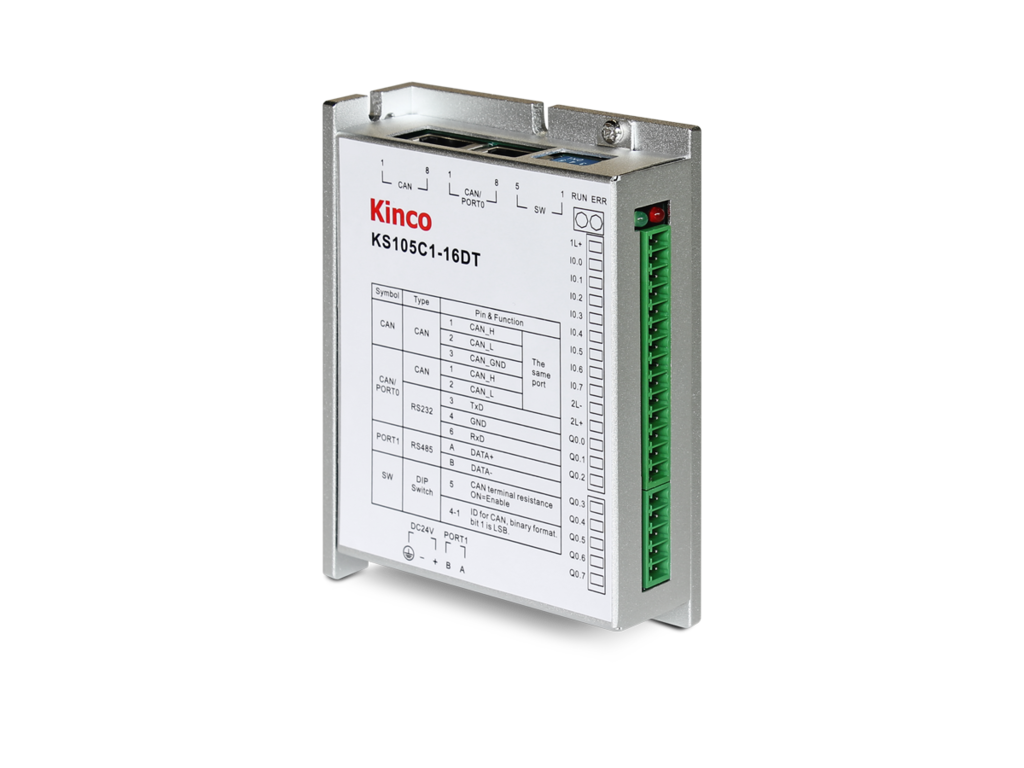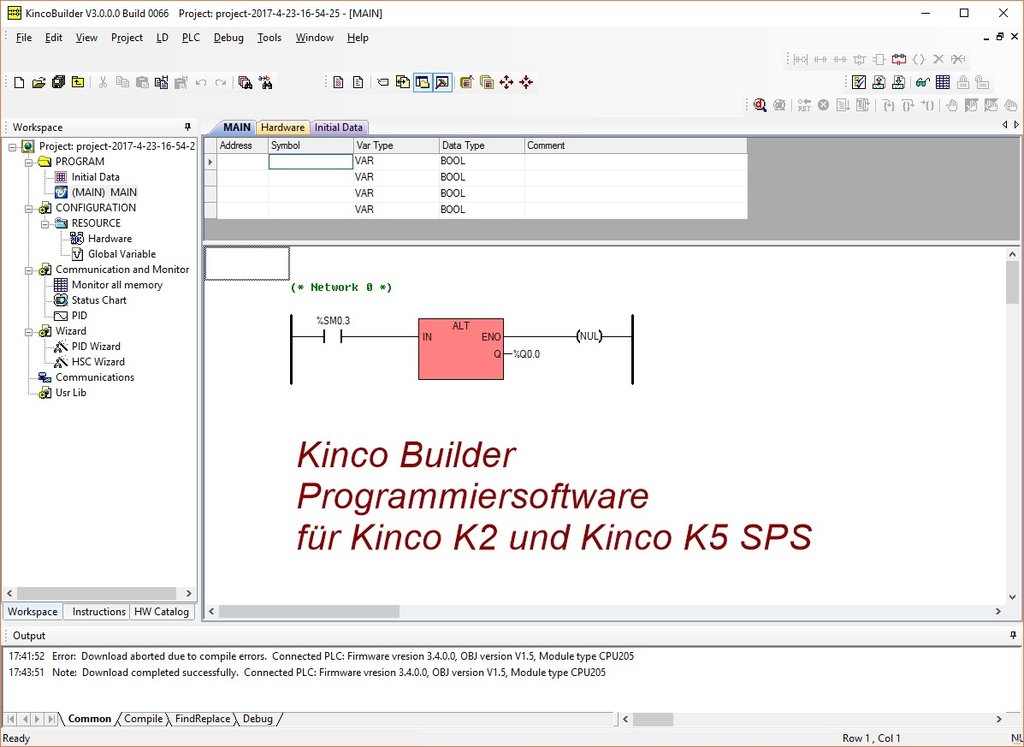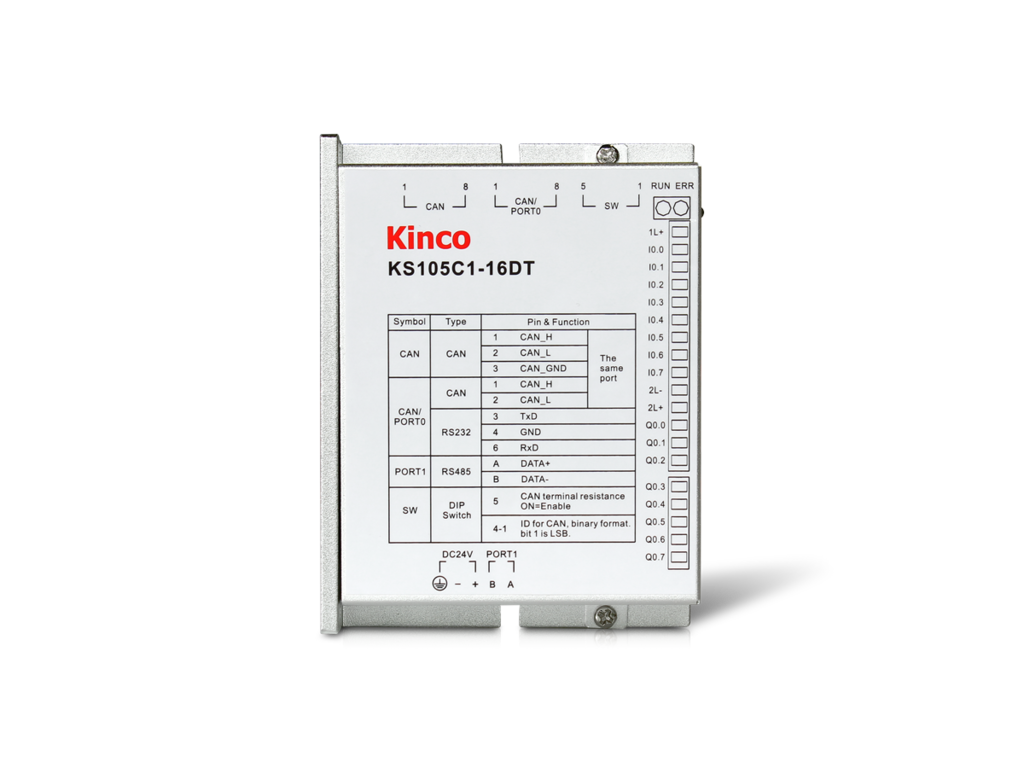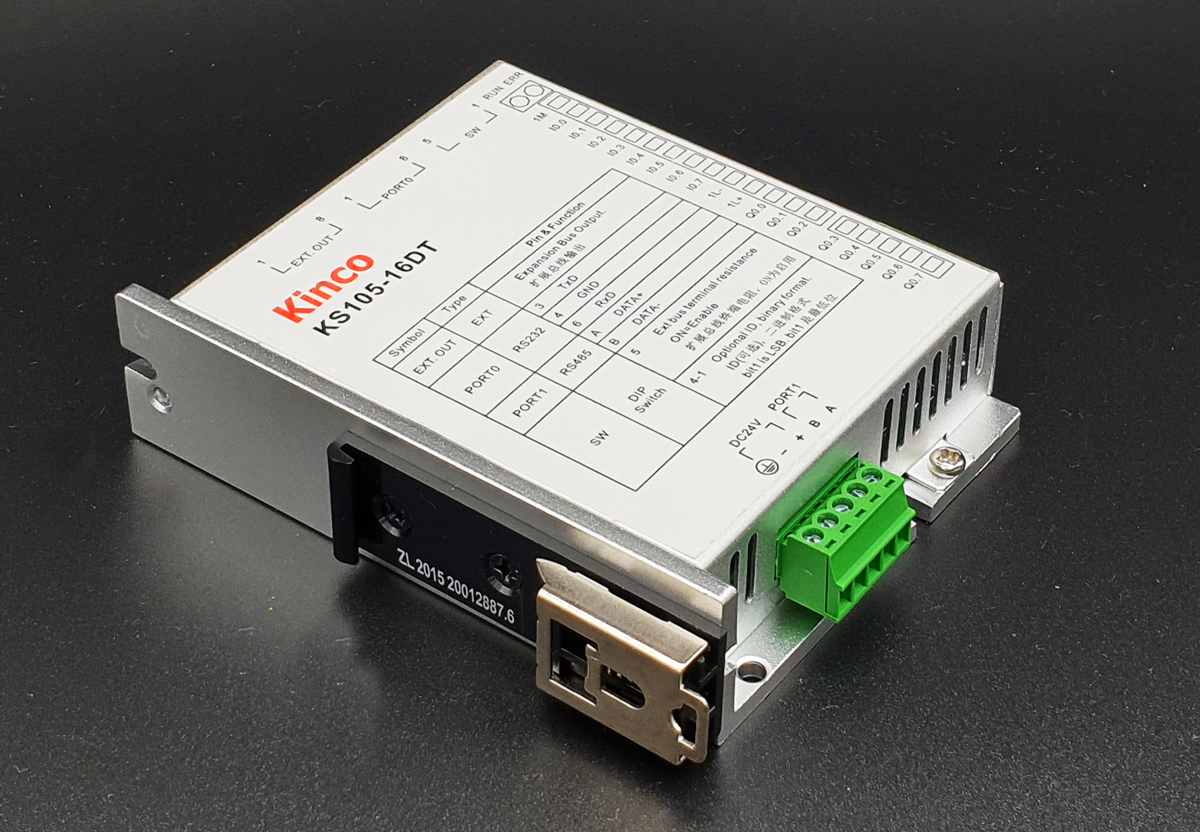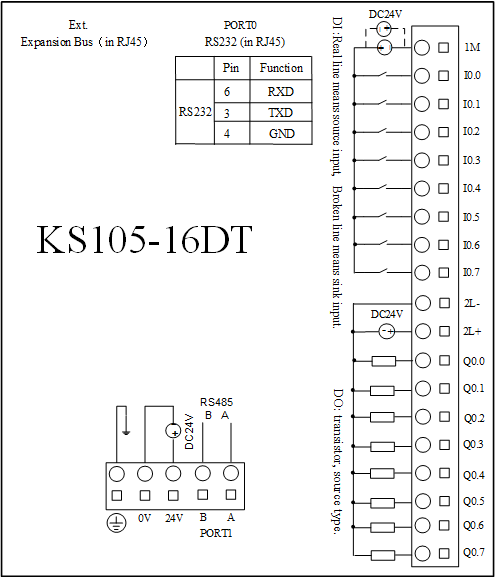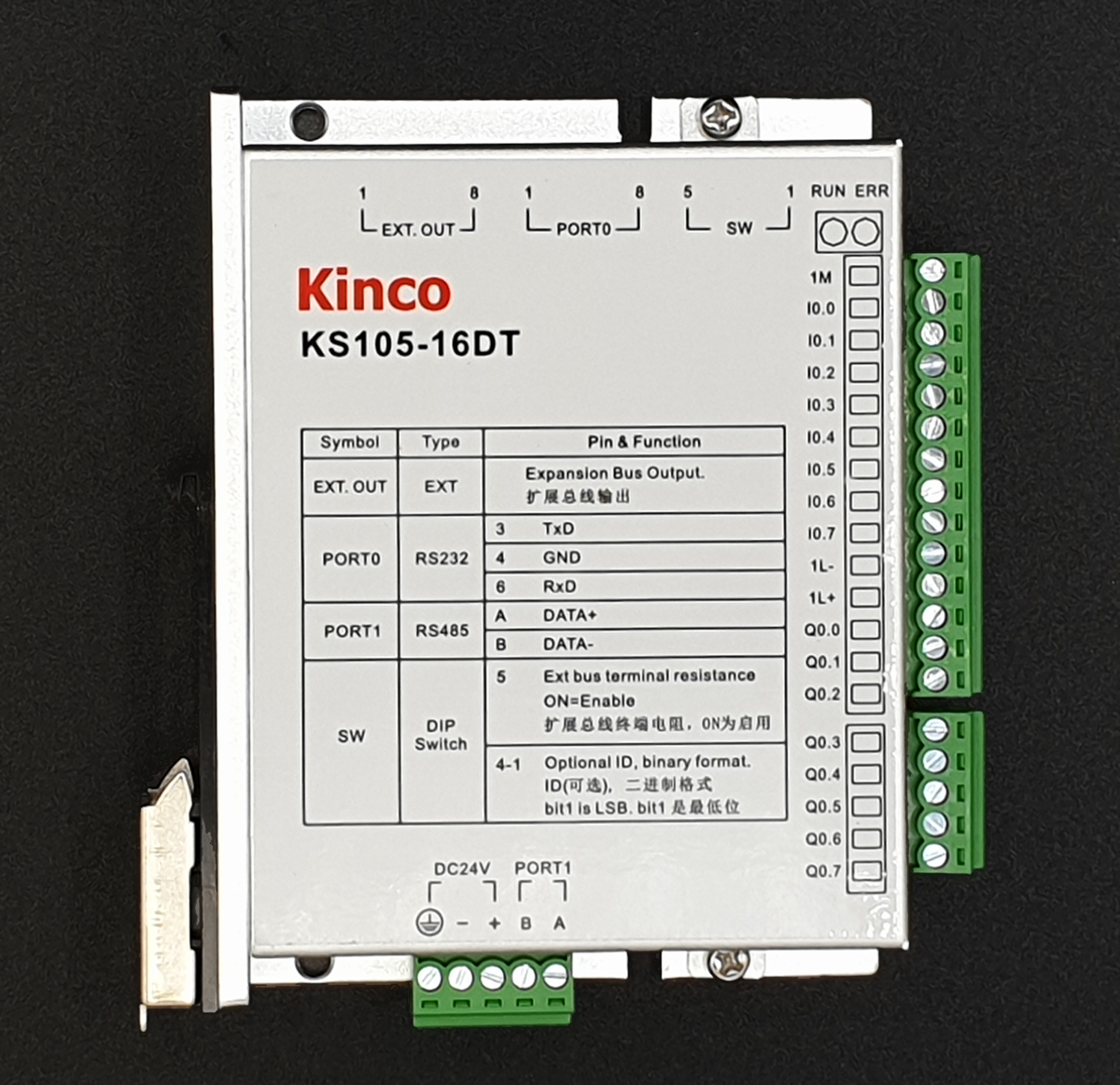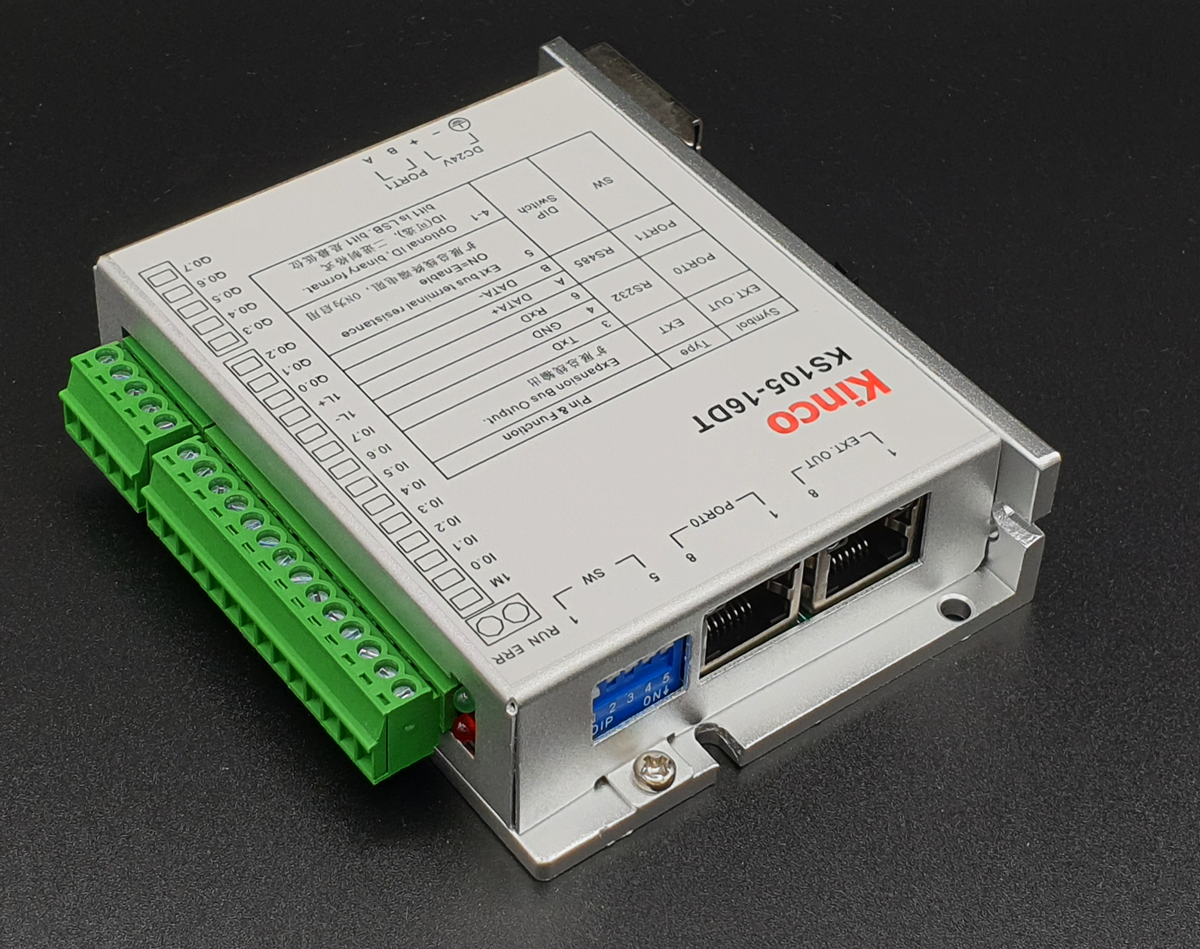 Available in 1 day, delivery time 3-5 Tage
Product information "Kinco PLC KS105-16DT - 16 I/O (expandable)"
8 digital inputs 24 VDC (PNP)
8 digital outputs transistor 24 VDC

1 x RS-485 (Modbus RTU) + 1 x RS-232 (programming port)
You can program this compact Kinco KS-PLC with the free Kinco-Builder programming software (available as download a little further down on this page).
Scope of delivery: PLC
Electrical properties
Allowable input voltage range:

12 - 28 VDC

Rated voltage (input voltage):

24 VDC

Schalttyp:
PNP
Interfaces, protocols and connections
Analogeingänge (Anzahl):

keine

Analogue output (number):

keine

CANopen:

kein CANopen

Digitalausgänge (Anzahl):

8

Digitaleingänge (Anzahl & Typ):

8 (24 VDC PNP)

Digital outputs:

8 Transistor

Ethernet:

kein Ethernet

Fieldbus & protocols:

Modbus RTU Master

, Modbus RTU Slave

, freie serielle Kommunikation (ASCII)

Impulsausgänge:

4 (3 x 200 kHz, 1 x 10 kHz)

Impulseingänge:

4 (4 x 200 kHz)

Interfaces:

Kinco KS-Erweiterungsbus (RJ45)

Klemmentyp:

Schraubklemme

Maximal mögliche Anzahl an Erweiterungsmodulen:

14

Modbus:

Modbus RTU Master

, Modbus RTU Slave

Profibus DP:

kein Profibus

RS-232 connector type:

RJ45

RS-485 connector type:

Klemme (A/B)

freie serielle Kommunikation:

Ja (ASCII)

serial interfaces:

Port 0: RS-232

, Port 1: RS-485

Dimensions and environmental properties
Cooling:

Environmental cooling (passive)

Dimensions (width x height x depth):

25,4 mm x 100 mm x 75,5 mm

Housing material:

Metall

Installation:

DIN-Schiene

, Schraubmontage

Klemmentyp:

Schraubklemme

Protection class:

IP20

Temperature operation:

-10 °C bis +55 °C

Other properties
Jahr der Markteinführung:

2018

Real time clock:

yes (battery backed, set manually)

Series:

KS

Programming
Language of programming software:

Chinesisch

, Englisch

Programming languages:

Contact Diagram (CD)

, Instruction List (IL)

Programming software:

KincoBuilder

Certifications
CE certificate:

yes

Normen und Zertifzierungen:

CE (EN61000-6-4:2007+A1:2011, EN61000-6-2:2005)

Kinco
ist einer der führenden Hersteller für Automatisierungstechnik in Asien. Am Hauptsitz in Shenzhen (China) an der Grenze zu Hongkong ist auch das Forschungs- und Entwicklungsteam des Unternehmens beheimatet, zusätzlich betreibt Kinco ein Forschungszentrum in Deutschland, eine Besonderheit unter chinesischen Unternehmen.
In Bezug auf Qualität und Funktionsumfang orientiert sich Kinco stark am europäischen und deutschen Markt. Kommunikationstreiber für Siemens S7-Steuerungen sind deshalb in jedem HMI enthalten. Das Unternehmen hat ein modernes und zuverlässiges Sortiment an HMI, Antriebstechnik und Steuerungen. Kinco erwirtschaftet bereits mehr als 10% seines Umsatzes international, Deutschland gehört zu den Wachstumsmärkten des Herstellers.
Login or Register with...
Kinco PLC software and information download
Die kostenfreie Programmiersoftware KincoBuilder, Dokumentation und Produktbroschüren für die aktuellen SPS von Kinco
KincoBuilder_V8.1.0.30En_setup.zip

(16.59 MiB)

Kinco Builder Programmiersoftware für Kinco SPS (Vollversion kostenfrei)

KincoCatalog_PLC_K1E04_20201110.pdf

(5.72 MiB)

Kinco_K2_Betriebsanleitung.pdf

(1.24 MiB)

Kinco_KS_Betriebsanleitung.pdf

(1.43 MiB)

Software manualfor K5_20190516.pdf

(7.06 MiB)

User Manual for K2_ 20.04.pdf

(2.31 MiB)

User Manual for KS-2003.pdf

(2.63 MiB)

User Manual for KW 202002.pdf

(2.79 MiB)