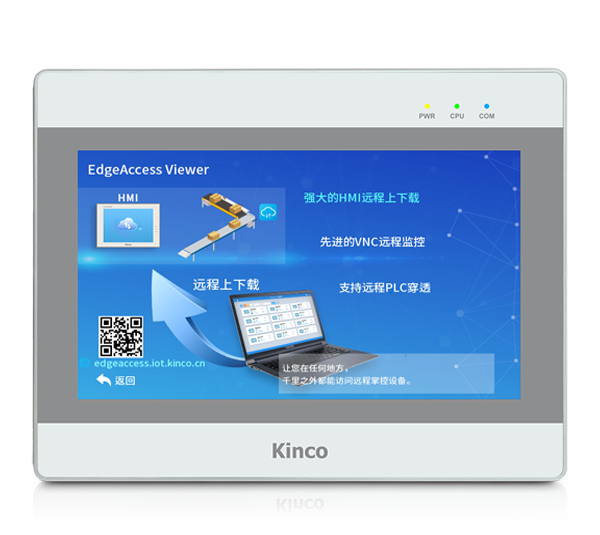 Kinco GT100E2 10" IoT Series Widescreen HMI Touch Panel with 2 x Ethernet
The GT100E2 is the variant of the GT100E with 2 separate network ports. It is a modern, versatile and very cost effective HMI touch panel with 10'' screen diagonal and a resolution of 1,024 * 600 pixels from Kinco with Ethernet interface. It has an integrated VPN remote maintenance and remote download function and connects automatically to a remote maintenance server in Frankfurt if an internet connection is established, e.g. via a router. Caution, the device is slightly larger than the GL100E and does not fit into the same cutouts. The HMI is programmed via the free software Kinco DTools. You can find this further down on this page as a download. The software is available in German language. You can connect PLCs, frequency converters and other devices that you want to visualize or control via Ethernet and serial interface. The touch panel offers you a versatile range of functions and simple graphical configuration of PLC communication. The touch panel is ideal for machine controls or smaller plant control elements. The device supports communication with over 60 different PLC models, including Siemens S7-200, S7-1200/1500, S7-300/400, LOGO!, Modbus RTU/TCP (Master and Slave), Allen Bradley, Thinget, Mitsubishi FX, Beckhoff ADS, BACnet and many others. Features (excerpt): Various graphical elements for display and operation. Animations Individual graphic elements and images possible. Extensive data logging Recipe management VNC server and client for remote control (e.g. from smartphone or browser) PDF display on the HMI (new) User management and security Alarms and Events Custom language switching for users programmable via text tables. C macros for complex calculations Program and recipe download via USB, USB stick, or Ethernet FTP server to retrieve CSVs and log files. XY graphs with up to 64 characteristics possible, histograms. Generation and display of QR codes. Scheduler for calendar controlled functions. ... Kinco HMI are now in use at well over 100 of our customers in Germany.We are convinced that Kinco's HMI touch panels also open up a particularly cost-effective way for you, as an automation or machine and plant manufacturer, to provide your customers with modern and versatile user interfaces.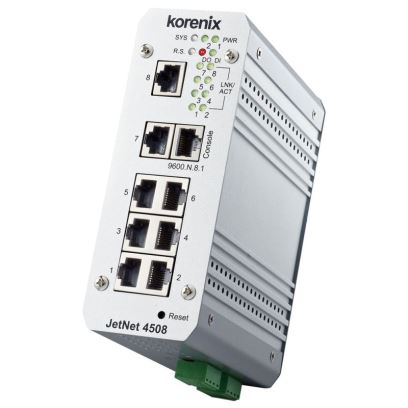 Korenix JetNet 4508 Ethernet 8 Port DIN Rail Industrial Managed Switch
Industrial switch for DIN rail mountingIdeal for simple automation systems with many Ethernet nodes that can communicate with each other.The switch can be configured in many ways, among other things the configuration can be integrated directly into the industrial network via Modbus TCP.The versatile redundancy features enable the smooth and reliable operation of the network. Supports port mirroring for analyzing the network traffic of individual connected components. This also makes the switch ideal for test beds where equipment is being developed and communications are to be anlysed.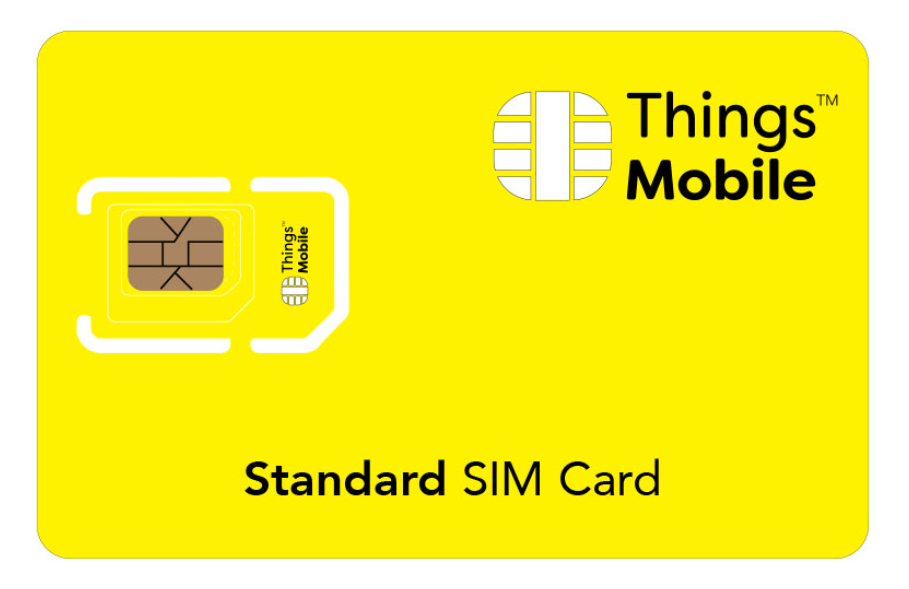 Things Mobile IoT SIM card
IoT SIM card from Things Mobile optional with prepaid creditBreakable for Full-Size (for Kinco HMI with 4G), Micro-SIM and Nano-SIM sizes.Prepaid data plan with or without basic fee, configurable per SIM card. Usable worldwide, roaming in the German networks of Telekom, Vodafone and O2. SIM cards in your Things Mobile customer account share a common prepaid balance and can automatically recharge from it.Tariffs at a glance https://www.thingsmobile.com/de/business/plans/uberblickTariff with basic fee of 1 € per card: https://www.thingsmobile.com/de/business/plans/tarif-nach-verbrauch-mit-grundgeb-hrTariff without basic fee: https://www.thingsmobile.com/de/business/plans/tarif-nach-verbrauch-ohne-grundgeb-hrThe tariff can be set per card. The tariff option of each card can be changed in the portal.For the use and activation of the SIM card a one-time registration in the Things Mobile portal is required (with one-time identity check with ID document): https://www.thingsmobile.com/de/registration