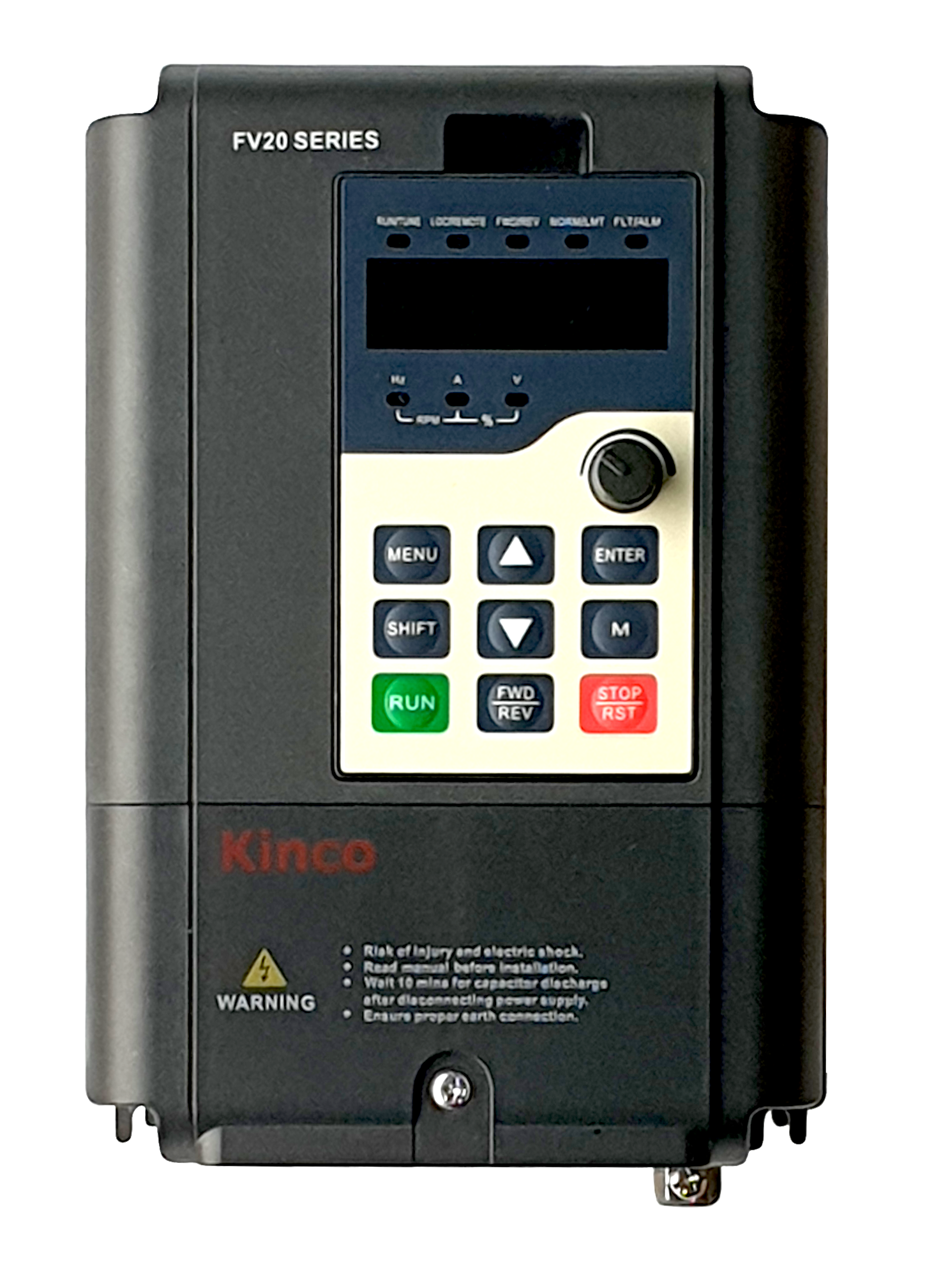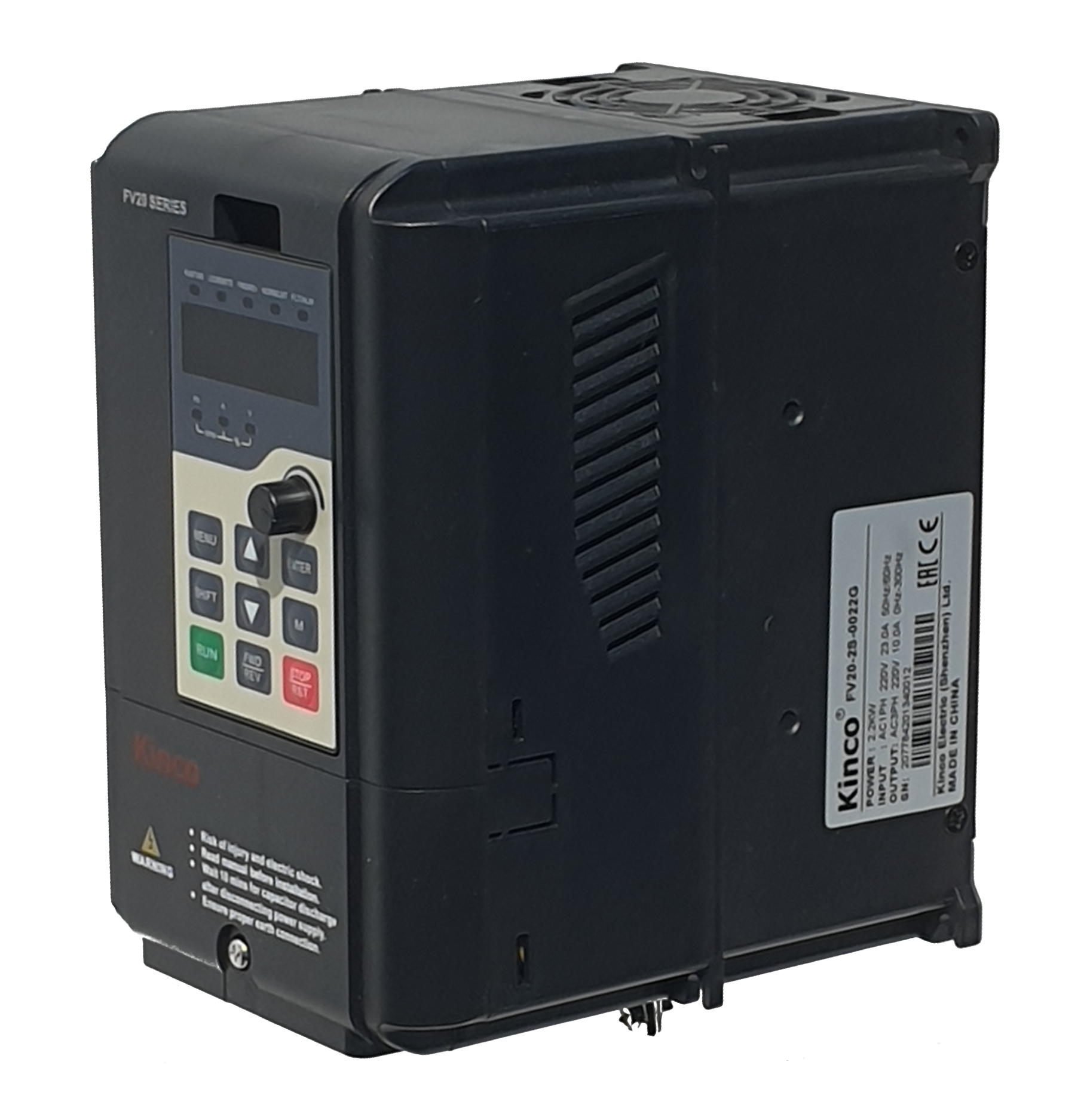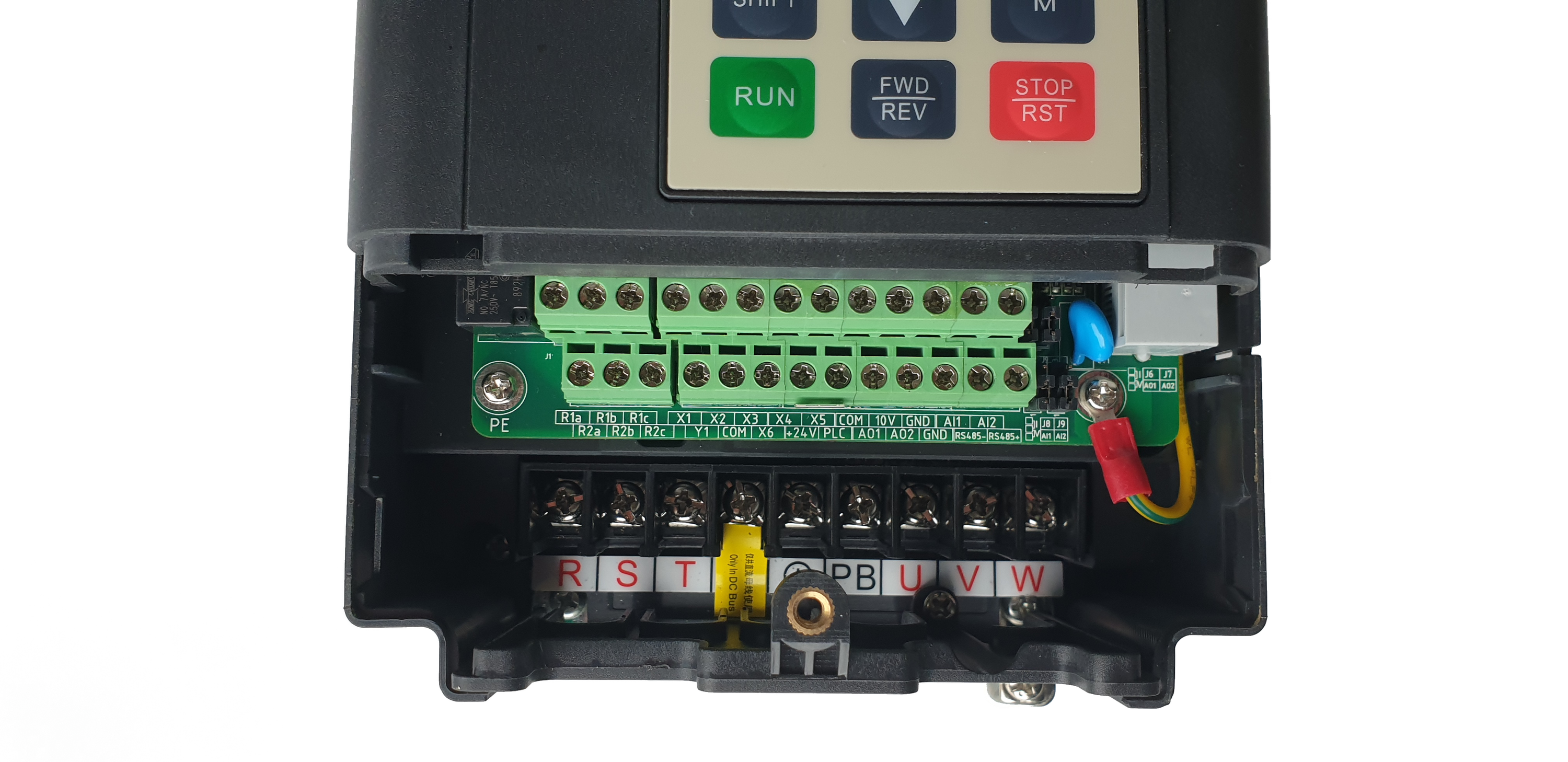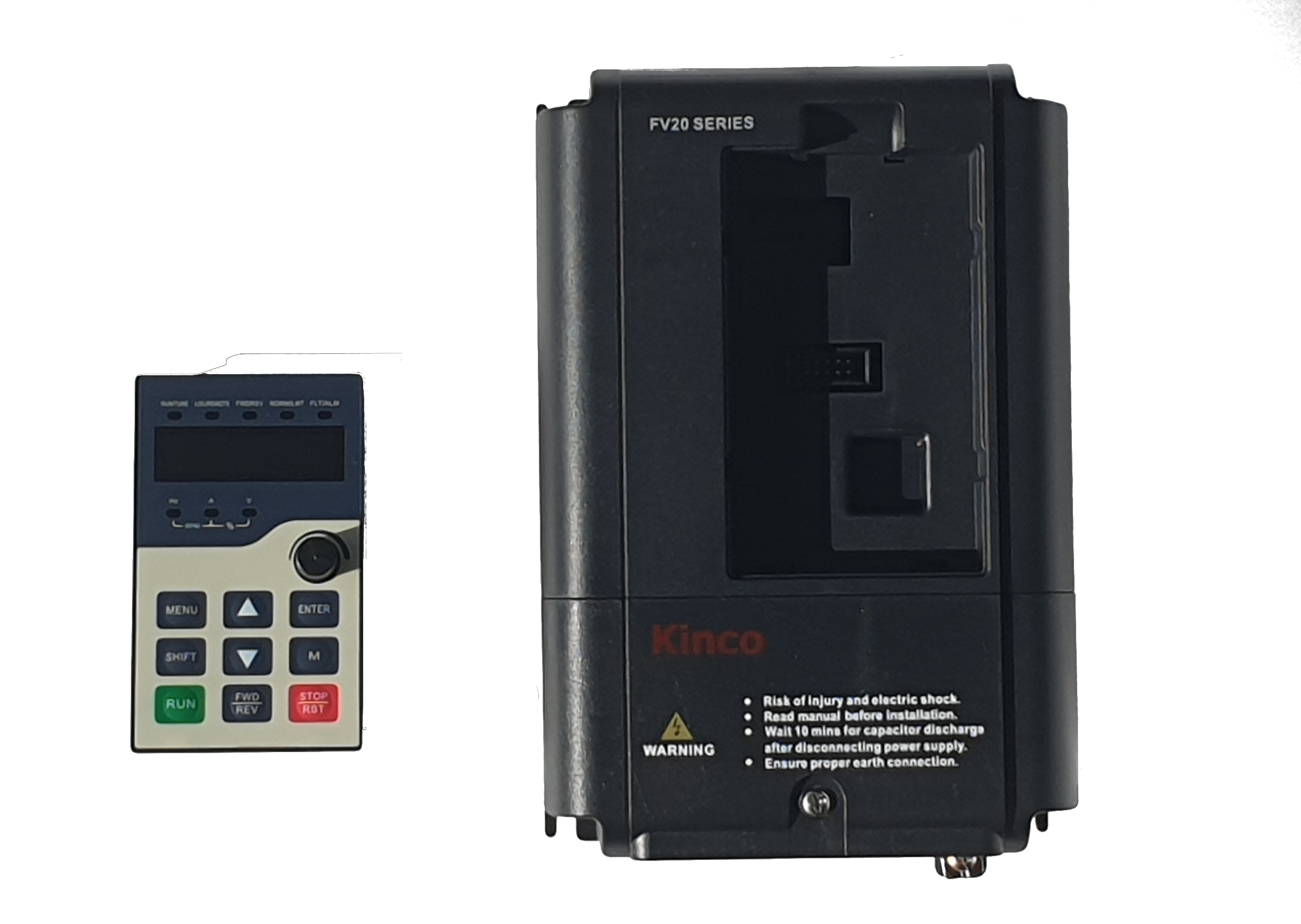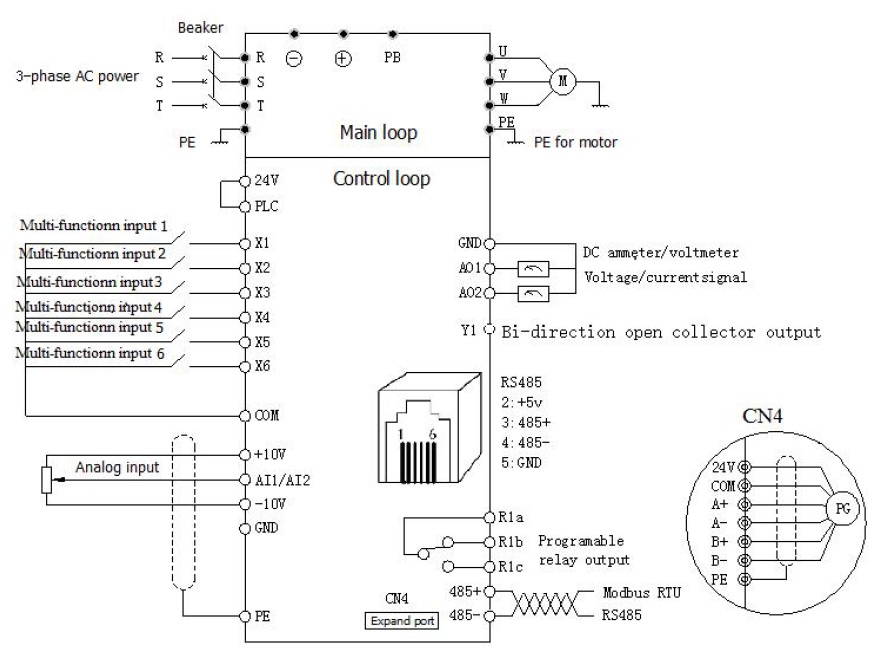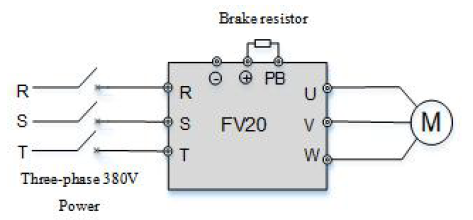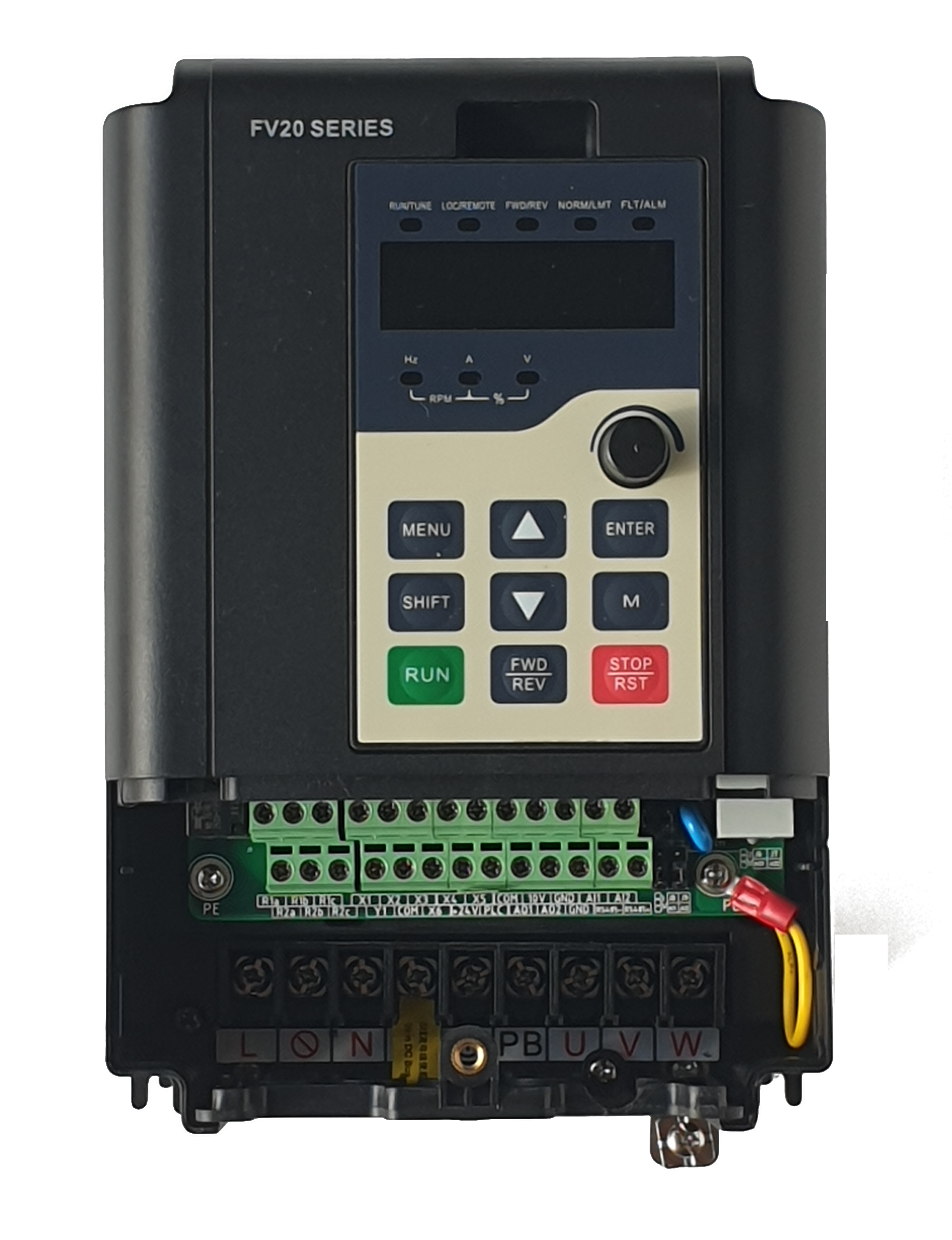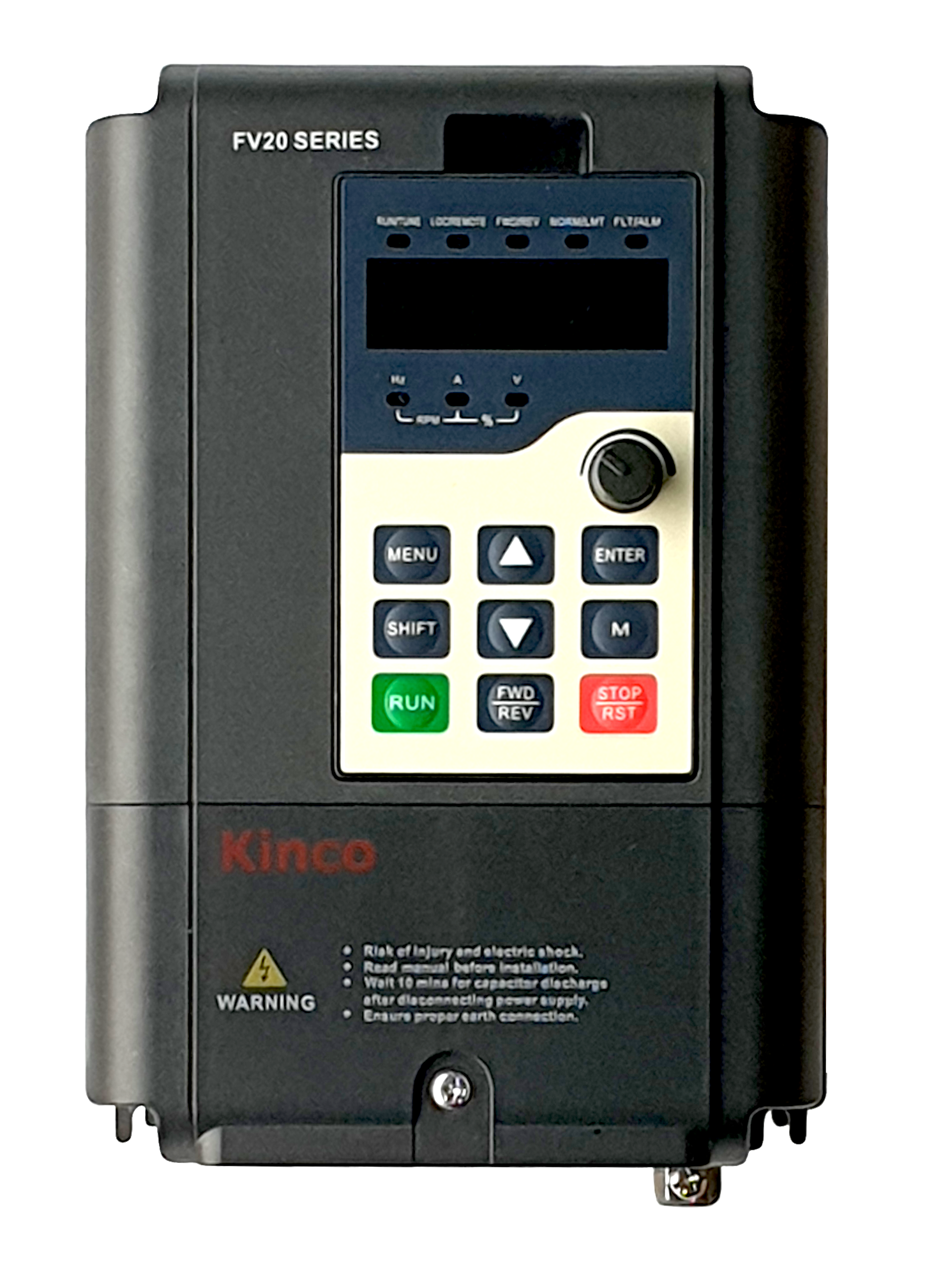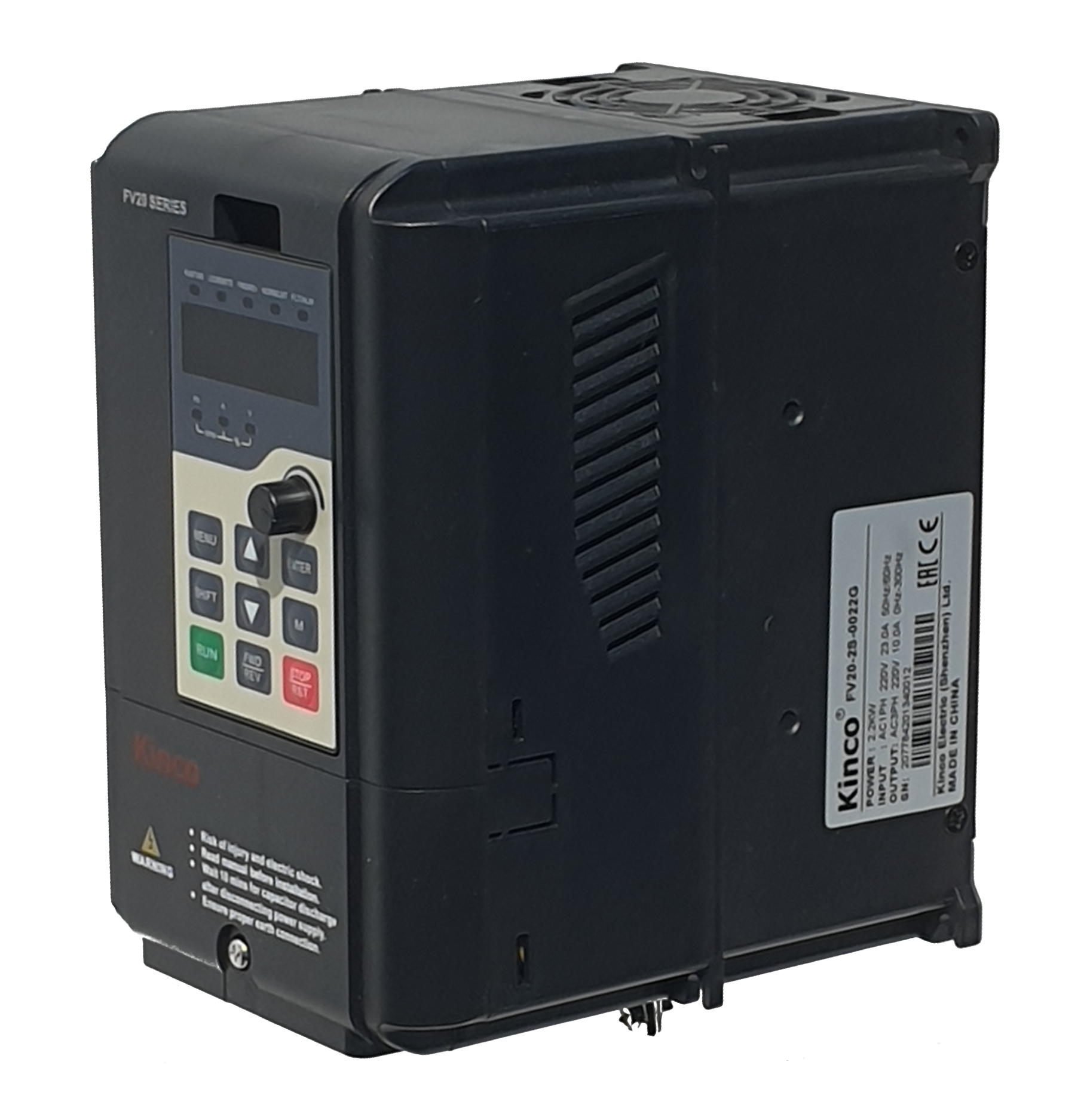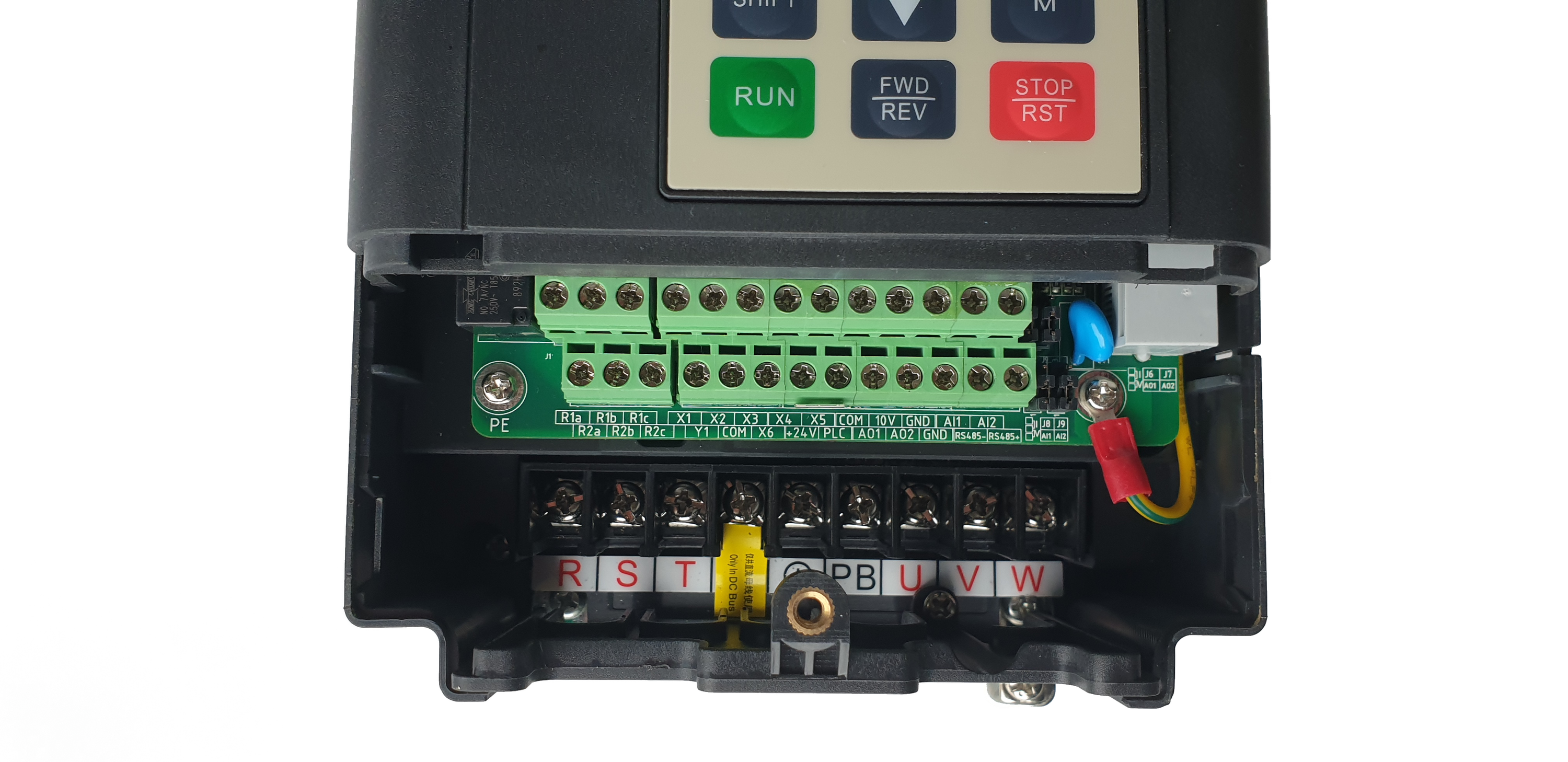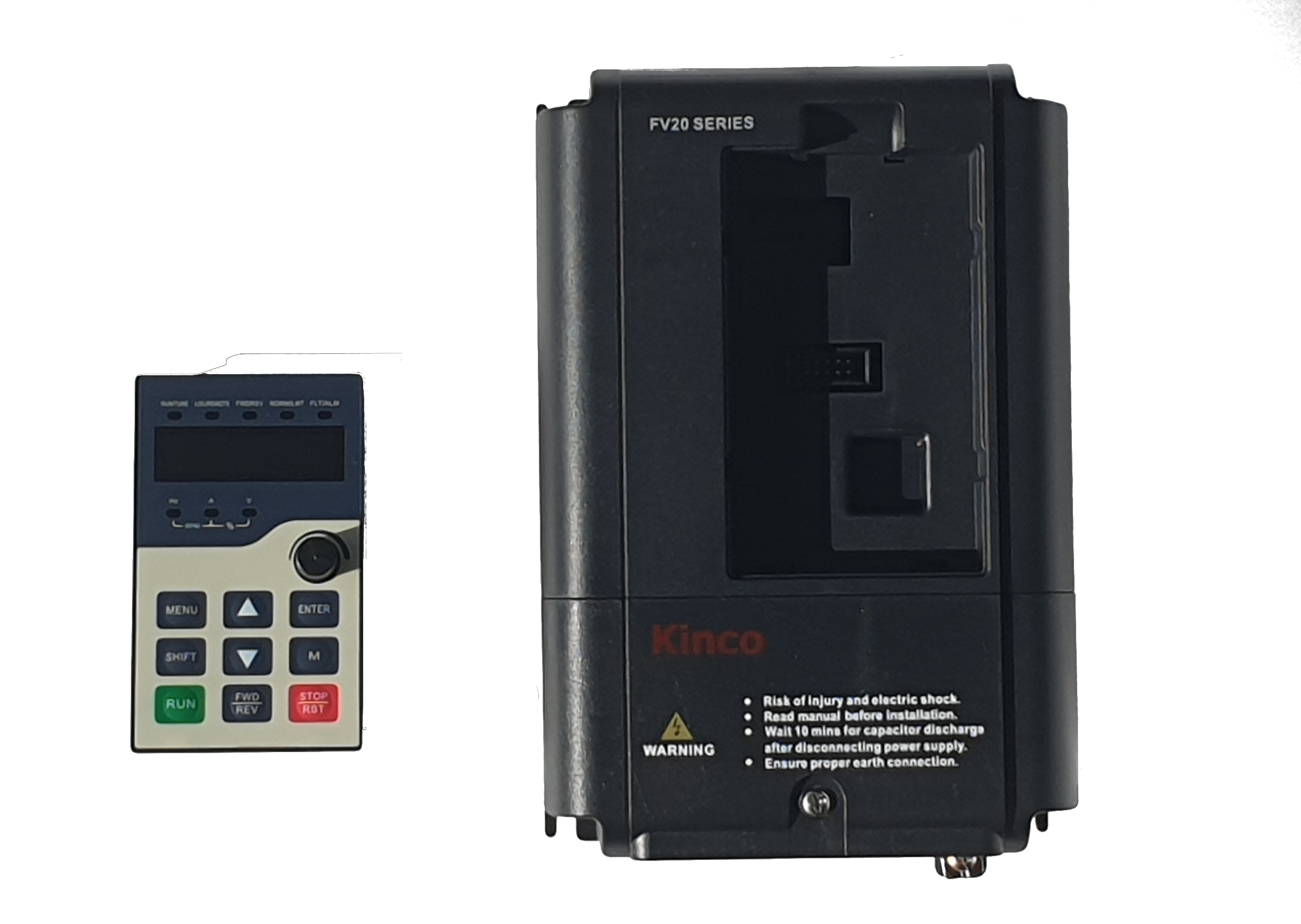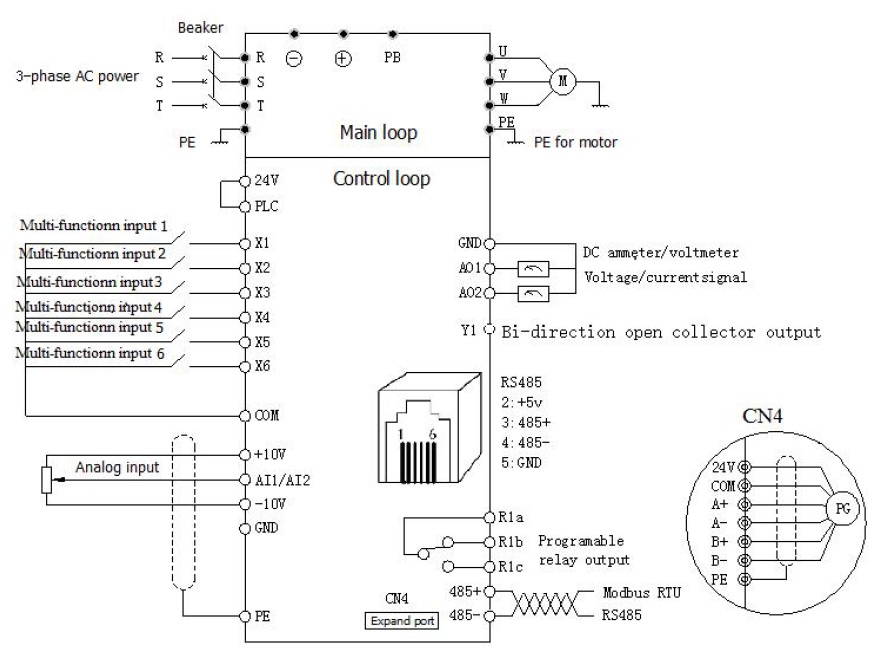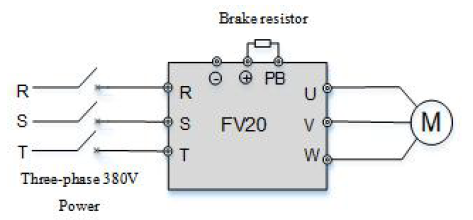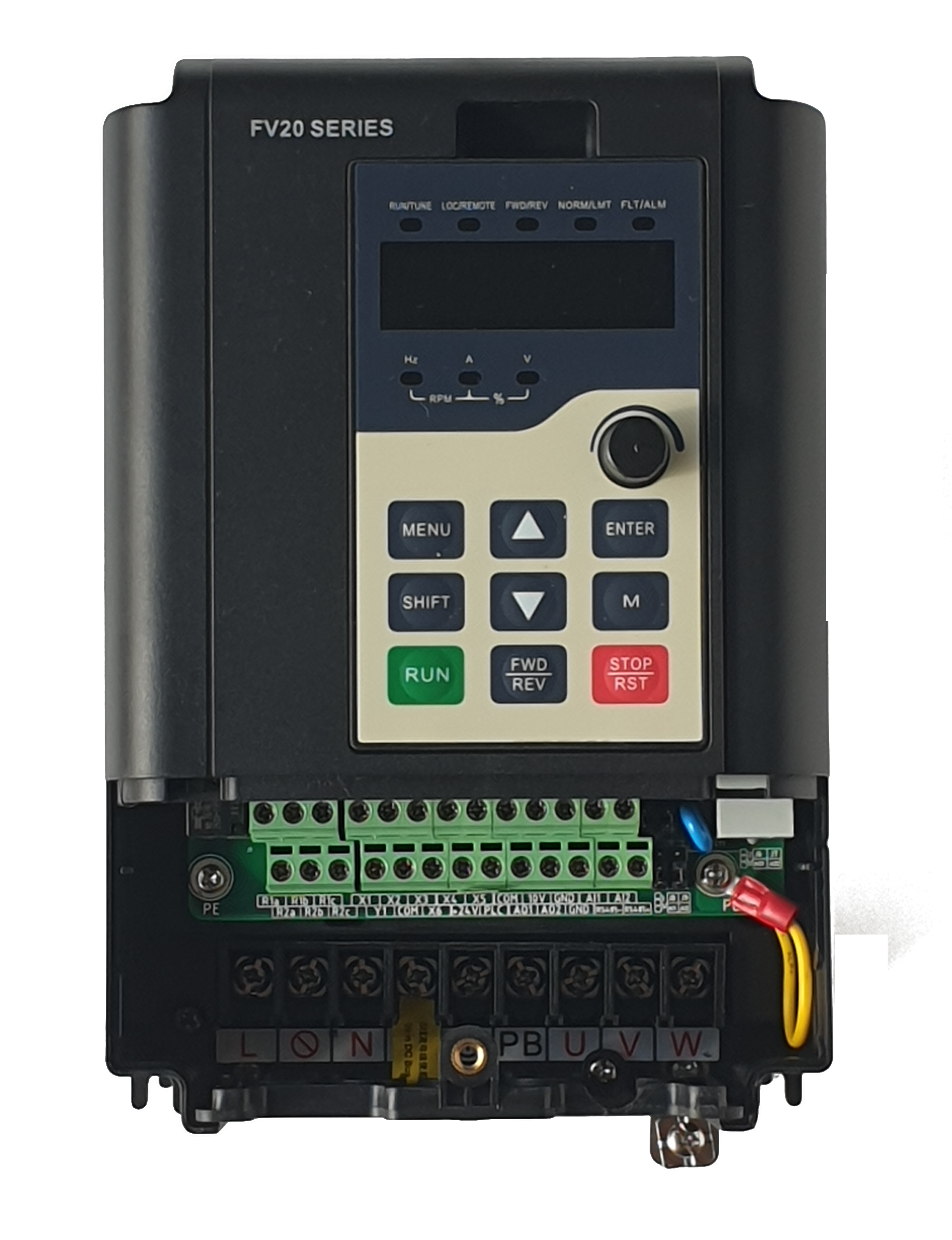 Available, delivery time 3-5 Tage
Product information "Kinco frequency converter FV20-4T-0015G (1.5 kW) three-phase 400 VAC"
Very powerful frequency inverter three-phase 400 VAC, 50Hz/60Hz in the variant 1.5 kW with many comfort functions for controlling drives.
Single-phase refers to the mains voltage, the motor connection is three-phase.
The frequency inverter offers very many comfort functions for this price range, especially vector control without encoder and optionally vector control with encoder (with correspondingly retrofitted card for speed feedback) as well as integrated filter and braking unit.
V/F control, vector control
Very easy wiring due to screw terminals on the front

.
Suitable for MODBUS via RS-485
Electrical properties
Allowable input voltage range:

320 - 460 VAC

EMV-Eingangsfilter:

nicht integriert

Eingangsleistung (Scheinleistung):

3,0 KVA

Electrical efficiency:

>= 93%

Frequency control resolution:

0,01 Hz

Input current (Rated current):

5,0 A

Output current motor (rated current):

3,7 A

Rated power:

1,5 kW

Rated voltage (input voltage):

400 VAC 3-phasen Drehstrom (50 /60 Hz)

frequency range:

0 - 300 Hz

output voltage:

dreiphasig, 0 VAC bis 400 VAC

Überlastbarkeit:

180% Nennstrom für 10 s

, 150% Nennstrom für 1 min

Interfaces, protocols and connections
Analogausgänge (Typ):

0 - 10 V

, 0 - 20 mA

, 4 - 20 mA

Analogeingänge (Anzahl):

1

Analogeingänge (Typ):

0 - 10 V

, 0 - 20 mA

Analogue output (number):

2

CANopen:

kein CANopen

Digitalausgänge (Anzahl):

2

Digitaleingänge (Anzahl & Typ):

6 (24 VDC)

, Funktion programmierbar

Digital outputs:

1 Relais (konfigurierbar)

, 1 Transistor (24 VDC)

Ethercat:

kein Ethercat

Ethernet:

kein Ethernet

Fieldbus & protocols:

Modbus RTU Slave

Impulsausgänge:

1

Impulseingänge:

6 (200 kHz)

Interfaces:

RS-485

Klemmentyp:

Schraubklemme

Modbus:

Modbus RTU Slave

Profibus DP:

kein Profibus

RS-485 connector type:

Klemme (A/B)

Relaisausgänge (Anzahl & Typ):

1 (konfigurierbar)

SD-Karte:

keine

freie serielle Kommunikation:

Nein

isolierte serielle Schnittstelle:

nein

serial interfaces:

Port 1: RS-485

Dimensions and environmental properties
Cooling:

Fan (active)

Dimensions (width x height x depth):

126 mm x 186 mm x 167 mm

Housing material:

Technischer Kunststoff

Installation:

Schraubmontage

Klemmentyp:

Schraubklemme

Montage Detail:

Wandmontage, Schraubmontage

Protection class:

IP20

Temperature operation:

-10 °C bis +40 °C

, im Bereich 40 °C bis 50 °C geringere Leistung

Temperature storage:

-40 °C bis +70 °C

Weight:

2 kg

Other properties
Beschleunigungsarten:

S-Kurve

, linear

Betriebsbefehle über:

Digitaleingänge (konfigurierbar)

, Modbus RTU

, Tasten am Gerät

Bremse:
mit Bremseinheit
Frequenzvorgabe über:

Analogeingang

, Digitaleingänge (konfigurierbar)

, Modbus RTU

, eingebautes Potentiometer

, externes Potentiometer

Schutzfunktionen:

Unterspannungsschutz

, Überhitzungsschutz

, Überlastschutz

, Überspannungsschutz

, Überstromschutz

Series:

FV20

Steuerungsarten:

U/f-Regelung

, Vektorregelung mit Geber (optional mit Zusatzkarte)

, Vektorregelung ohne Geber

Programming
Autotuning der Motorparameter:

ja

Konfigurierbar über:

Kinco Software

, Modbus RTU

, Tasten am Gerät

Language of programming software:

Chinesisch

, Englisch

Programming software:

Kinco Inverter

Certifications
CE certificate:

yes

Normen und Zertifzierungen:

CE (EN61000-6-4:2007+A1:2011, EN61000-6-2:2005)
Manufacturer "Kinco"
Kinco
ist einer der führenden Hersteller für Automatisierungstechnik in Asien. Am Hauptsitz in Shenzhen (China) an der Grenze zu Hongkong ist auch das Forschungs- und Entwicklungsteam des Unternehmens beheimatet, zusätzlich betreibt Kinco ein Forschungszentrum in Deutschland, eine Besonderheit unter chinesischen Unternehmen.
In Bezug auf Qualität und Funktionsumfang orientiert sich Kinco stark am europäischen und deutschen Markt. Kommunikationstreiber für Siemens S7-Steuerungen sind deshalb in jedem HMI enthalten. Das Unternehmen hat ein modernes und zuverlässiges Sortiment an HMI, Antriebstechnik und Steuerungen. Kinco erwirtschaftet bereits mehr als 10% seines Umsatzes international, Deutschland gehört zu den Wachstumsmärkten des Herstellers.
Open manufacturer website
Login or Register with...
Kinco FV20 Downloads
Datenblätter, Betriebsanleitung und Software für Kinco FV20 Frequenzumrichter
FV20 Deutsch-20210120.pdf

(1.42 MiB)

Deutsche Produktbroschüre mit technischen Daten für die Kinco FV20 Frequenzumrichter

FV20 englishcatalog-20210120.pdf

(6.77 MiB)

Englische Produktbrochüre für die Kinco FV20 Frequenzumrichter

Kinco FV20 CE-Zertifikat ab 22 kW.pdf

(751.43 KiB)

CE-Zertifikat für die Kinco FV20 Frequenzumrichter ab 22 kW

Kinco FV20 CE-Zertifikat bis 18 kW.pdf

(751.48 KiB)

CE-Zertifikat für die Kinco FV20 Frequenzumrichter bis 18 kW

Kinco FV20 VFD User Manual-20190424.pdf

(2.95 MiB)

Umfangreiches englisches Benutzerhandbuch für die Kinco FV20 Frequenzumrichter

Konfigurationssoftware für Kinco Umrichter.zip

(15.49 MiB)

Konfigurationssoftware für die Kinco Frequenzumrichter, benötigt RS-485-Adapter für PC.