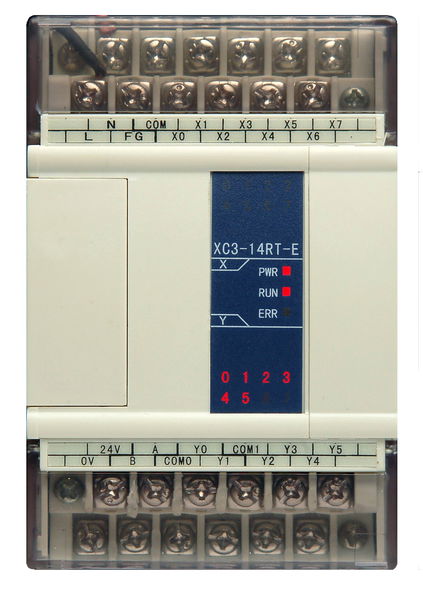 Available in 1 day, delivery time 3-5 Tage
Product information "Xinje XC3 PLC with 14 I/O (not expandable)"
Full-featured PLC from Xinje at a tiger price. Versatile range of functions for simple control, positioning and regulation tasks.

Interfaces, protocols and connections
CANopen:

kein CANopen

Digitaleingänge (Anzahl & Typ):

8 (24 VDC PNP)

Impulseingänge:

4 (2 x 50 kHz, 2 x 20 kHz)

Klemmentyp:

Schraubklemme

Profibus DP:

kein Profibus

SPS/Kommunikation_alt:

1 x RS232 Programmierschnittstelle (COM1), 1 x RS-485 (COM2) unterstützt Modbus RTU und kann an ein HMI angeschlossen werden

freie serielle Kommunikation:

Ja (ASCII)

Dimensions and environmental properties
Dimensions (width x height x depth):

63 mm x 94 mm x 73 mm

Klemmentyp:

Schraubklemme

Montage Detail:

DIN-Schiene / Schraubvorrichtung

Other properties
Besonderheiten:

Modbus RTU Master / Slave-Unterstützung

Programming
Programming languages:

KOP, AWL, C

Certifications
CE certificate:

yes
Manufacturer "Xinje"
XINJE (THINGET) ist der internationale Handelsname des Automatisierungstechnikherstellers XINJE aus Wuxi im industriellen Herzen Chinas. Thinget ist ein hersteller moderner Kompakt-SPS, die durch Vielseitigkeit, Zuverlässigkeit und ein sehr gutes Preis-/Leistungsverhältnis überzeugen. Thinget ist in der chinesischen Fertigungsindustrie unter anderem in Textilmaschinen und Fördertechnik weit verbreitet. Europa gehört zu den Wachstumsmärkten des dynamischen Herstellers.
Open manufacturer website
Login or Register with...
Xinje XC PLC downloads
Software und Dokumentation für die Xinje XD SPS. Die XC ist ein Auslaufmodell. Für aktuelle Projekte empfehlen wir Xinje XD.
2020_XC_PLC_catalog.pdf

(4.82 MiB)

G-Box-inklusive-Fernwartung.pdf

(811.08 KiB)

Handbuch-XC-E3AD4PT2DA-2013.pdf

(367.46 KiB)

Handbuch-XC-E4AD.pdf

(375.83 KiB)

Handbuch-XC3-14.pdf

(517.86 KiB)

Handbuch-XC3-32.pdf

(372.17 KiB)

T-Box-BD-Anleitung_v2.pdf

(509 KiB)

XC hardware manual.pdf

(4.26 MiB)

XC instruction manual.pdf

(10.46 MiB)

XCM motion control.pdf

(3.83 MiB)

XCPpro 3.3q de.zip

(7.44 MiB)