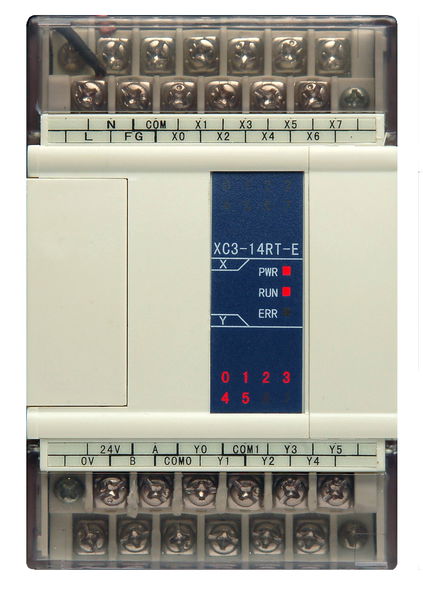 Available in 1 day, delivery time 3-5 Tage
Product information "THINGET XC3 PLC with 14 I/O (not expandable)"
Vollwertige, schnelle nicht erweiterbare SPS von THINGET zum Tigerpreis mit 8 Eingängen und 6 Ausgängen. Vielseitiger Funktionsumfang für einfache Steuerungs-, Positionier- und Regelungsaufgaben. Ideal geeignet für einfache Maschinen, Geräte und Anlagensteuerungen, auch dort wo schnelle SPS-Zyklen gebraucht werden. Die SPS wird in Kontaktplan (KOP) oder Anweisungsliste (AWL) programmiert.
Softare Download
Leistungsumfang
Datenblatt
Video
Onlinekurs
Leistungsumfang der Thinget XC SPS
Volle Flexibilität durch umfangreichen Befehlssatz mit über 100 Anweisungen. Die XC3-14 SPS ist geeignet für:
einfache Überwachungs- und Steuerungsaufgaben dank übersichtlicher Kontaktplanprogrammierung
anspruchsvolle Zeitsteuerung dank hunderter vielseitiger Timer mit bis zu 1 ms Auflösung und Zähler mit 16 und 32 Bit
Maschinen- und Ablaufsteuerung dank flexibler Schrittkettenprogrammierung
Schrittmotorsteuerung für bis zu 2 Achsen dank 4 schneller Zählereingänge mit 10 kHz und 2 Pulsausgängen mit bis zu 400 kHz (nicht in Relaisvariante)
Anschluss an HMI oder Peripheriegeräte wie Barcode-Leser oder Frequenzumrichter dank leicht zu konfigurierender Modbus RTU Master/Slave-Schnittstelle
auch komplexere Aufgaben werden leicht bewältigt, dank einer umfangreichen Sammlung an 32-Bit-Befehlen, Word-Verarbeitung, Fließkomma-Arithmetik und C-Block-Programmierung
Diese Variante mit 14 E/A ist zwar nicht erweiterbar, kann aber als
Modbus Master oder Slave
über den eingebauten RS232-Port mit Peripheriegeräten, anderen Steuerungen oder einem HMI verbunden werden. Auch freie serielle Kommunikation ist möglich.
Einführung in die Programmiersoftware als Screencast
Ihr Browser unterstützt dieses Video leider nicht. Probieren Sie die aktuelle Version von Internet Explorer oder Chrome.
Weiterführender Onlinekurs für die Programmiersoftware
Unser Online-Kurs führt euch in die Funktionen der XCPPro Software ein.
zum Onlinekurs
Interfaces, protocols and connections
CANopen:

kein CANopen

Digitaleingänge (Anzahl & Typ):

8 (24 VDC PNP)

Ethernet:

kein Ethernet

Impulseingänge:

4 (2 x 50 kHz, 2 x 20 kHz)

Klemmentyp:

Schraubklemme

Profibus DP:

kein Profibus

SPS/Kommunikation_alt:

1 x RS-232 Programmierschnittstelle (COM1) + 1 x RS-485 (COM2), unterstützen beide Modbus RTU Master & Slave und können an ein HMI angeschlossen werden

freie serielle Kommunikation:

Ja (ASCII)

Dimensions and environmental properties
Dimensions (width x height x depth):

63 mm x 94 mm x 73 mm

Klemmentyp:

Schraubklemme

Montage Detail:

DIN-Schiene / Schraubvorrichtung

Programming
Programming languages:

KOP, AWL, C

Certifications
CE certificate:

yes
Manufacturer "Xinje"
XINJE (THINGET) ist der internationale Handelsname des Automatisierungstechnikherstellers XINJE aus Wuxi im industriellen Herzen Chinas. Thinget ist ein hersteller moderner Kompakt-SPS, die durch Vielseitigkeit, Zuverlässigkeit und ein sehr gutes Preis-/Leistungsverhältnis überzeugen. Thinget ist in der chinesischen Fertigungsindustrie unter anderem in Textilmaschinen und Fördertechnik weit verbreitet. Europa gehört zu den Wachstumsmärkten des dynamischen Herstellers.
Open manufacturer website
Login or Register with...
Xinje XC PLC downloads
Software und Dokumentation für die Xinje XD SPS. Die XC ist ein Auslaufmodell. Für aktuelle Projekte empfehlen wir Xinje XD.
2020_XC_PLC_catalog.pdf

(4.82 MiB)

G-Box-inklusive-Fernwartung.pdf

(811.08 KiB)

Handbuch-XC-E3AD4PT2DA-2013.pdf

(367.46 KiB)

Handbuch-XC-E4AD.pdf

(375.83 KiB)

Handbuch-XC3-14.pdf

(517.86 KiB)

Handbuch-XC3-32.pdf

(372.17 KiB)

T-Box-BD-Anleitung_v2.pdf

(509 KiB)

XC hardware manual.pdf

(4.26 MiB)

XC instruction manual.pdf

(10.46 MiB)

XCM motion control.pdf

(3.83 MiB)

XCPpro 3.3q de.zip

(7.44 MiB)