An overview of our automation technology
Compact PLCs, HMI touch panels, frequency converters and many other products: with us you will find brilliant and inexpensive technology for your automation projects. The programming software for all PLCs and HMIs can be downloaded directly as a full version free of charge with the respective product. Which items can you use in your projects and thus calculate your orders more cost-efficiently? Select your product group to browse our range.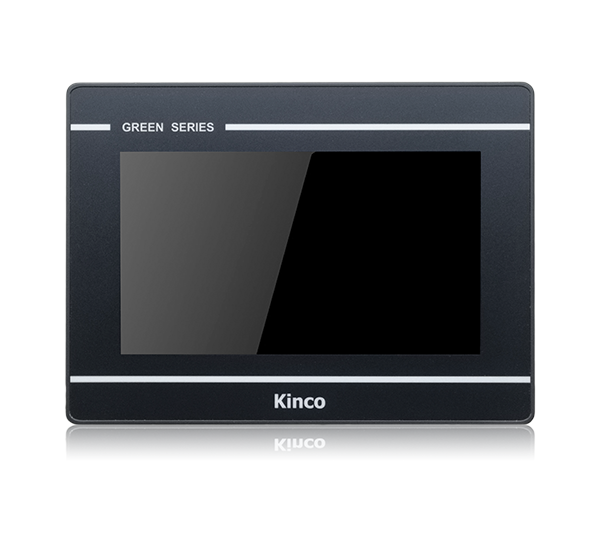 Kinco GL070E 7" Green Series Widescreen HMI Touch Panel
The GL070E is a modern, versatile and very cost-effective HMI touch panel with 7'' screen diagonal and a resolution of 800 * 480 pixels from Kinco with Ethernet interface. (Note for existing customers: The GL070E is the successor model of the MT4434TE and is compatible in terms of installation dimensions. Programs can be ported).The HMI is programmed using the free Kinco DTools software. You can download it from the bottom of this page. The software is available in German. PLCs, frequency converters and other devices that you want to visualise or control can be connected via Ethernet and serial interface. The touch panel offers you a versatile range of functions and simple graphic configuration of the PLC communication. The touch panel is ideal for machine controls or smaller plant control elements. The unit supports communication with over 60 different PLC models, including Siemens S7-200, S7-1200/1500, S7-300/400, LOGO!, Modbus RTU/TCP (master and slave), Allen Bradley, Thinget, Mitsubishi FX, Beckhoff ADS, BACnet and many others. Functions (excerpt):Versatile graphic elements for display and operationAnimationsIndividual graphic elements and images possibleExtensive data loggingRecipe managementVNC server and client for remote control (e.g. from smartphone or browser)PDF display on the HMI (new)User management and securityAlarms and eventsOwn language switching for users programmable via text tablesC macros for complex calculationsProgramme and recipe download via USB, USB stick or EthernetFTP server for retrieving CSVs and log filesXY graphs with up to 64 characteristics possible, histogramsGeneration and display of QR codesScheduler for calendar-controlled functions...Kinco HMIs are now in use at well over 100 of our customers in Germany.We are convinced that Kinco HMI touch panels also offer you, as an automation or machine and plant manufacturer, a particularly cost-effective way of providing your customers with modern and versatile user interfaces.