Kombigeräte vereinen SPS und HMI in einem Gerät. Sie sparen durch die kompakte Bauweise Platz im Schaltschrank.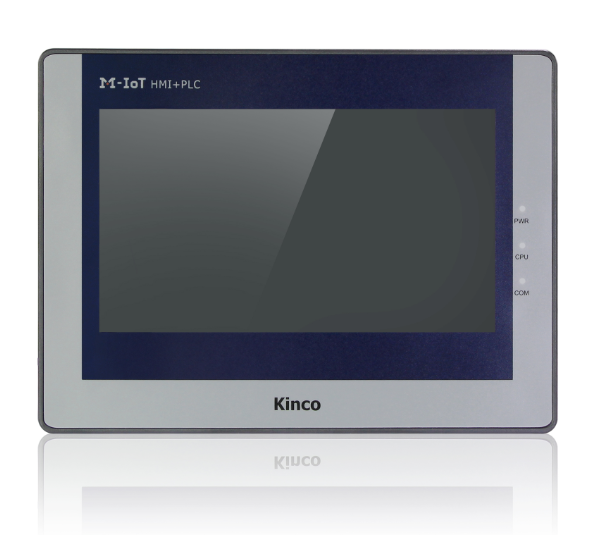 Kinco MK070E-33DT 7" IoT Series HMI Touch Panel with Ethernet and Integrated PLC
The MK070E-33DT is the new combination device from Kinco of HMI and PLC. The touch panel has a 7'' screen diagonal and a resolution of 800 * 480 pixels and an Ethernet interface. It has an integrated VPN remote maintenance and remote download function and connects automatically in a network to a remote maintenance server in Frankfurt. It is connected to a router via Ethernet.The HMI is programmed via free software Kinco DTools. You can find it further down on this page as a download. The software is available in German language. The PLC is programmed via the software Kinco Builder . This is so far available in English and will soon be available in German.The PLC is expandable with up to 8 Kinco KS series I/O modules.. Using Ethernet and serial interface, you can connect PLCs, frequency converters and other devices you want to visualize or control. The touch panel offers you a versatile range of functions and simple graphical configuration of PLC communication. The touch panel is ideal for machine controls or smaller plant control elements. The device supports communication with over 60 different PLC models, including Siemens S7-200, S7-1200/1500, S7-300/400, LOGO!, Modbus RTU/TCP (Master and Slave), Allen Bradley, Thinget, Mitsubishi FX, Beckhoff ADS, BACnet and many others. Features (excerpt): Various graphical elements for display and operation. Animations Individual graphic elements and images possible. Extensive data logging Recipe management VNC server and client for remote control (e.g. from smartphone or browser) PDF display on the HMI (new) User management and security Alarms and Events Individual language switching for users programmable via text tables. C macros for complex calculations Program and recipe download via USB, USB stick, or Ethernet FTP server to retrieve CSVs and log files. XY graphs with up to 64 characteristics possible, histograms. Generation and display of QR codes. Scheduler for calendar controlled functions. ... Note for new customers: You can test this device for 30 days without obligation. This device is of course also available for existing customers to order normally at the price shown.This is how the test works for new customers: the first time you order this device, we offer you a 30-day return policy. Within 30 days, you can return this device to us as a first-time buyer. You will not pay the invoice until the trial period is over and you have decided to use the device. To do so, order this device normally, we will automatically ship initial orders as a trial device. If you have any technical questions during the trial, feel free to write to us at support@spstiger.de. Kinco HMI are now in use at well over 100 of our customers in Germany.We are convinced that Kinco's HMI touch panels also open up a particularly cost-effective way for you, as an automation or machine and plant manufacturer, to provide your customers with modern and versatile operator interfaces.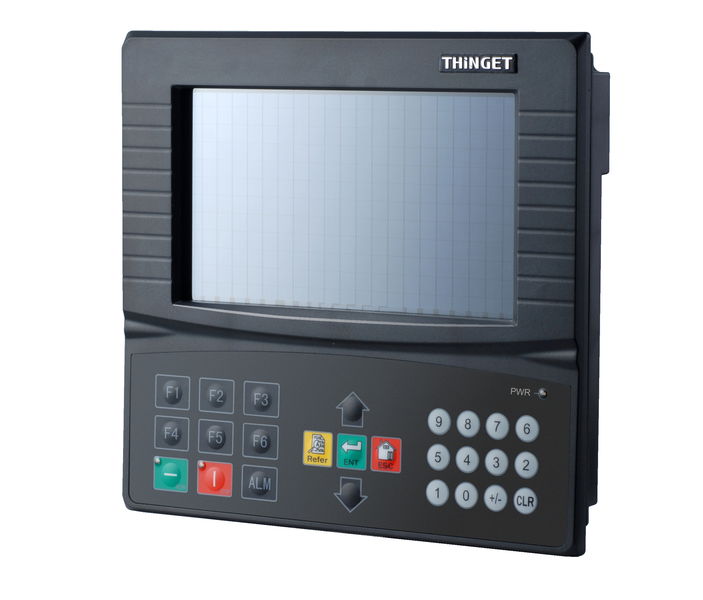 THINGET XMP-32 7" Widescreen HMI
7" widescreen HMI with full-fledged PLC from THINGET at a tiger price. Versatile feature set for simple control, positioning and regulation tasks. In addition to the HMI touch panel, various function keys are also available for free use.Comprehensive instruction set (16 Bit