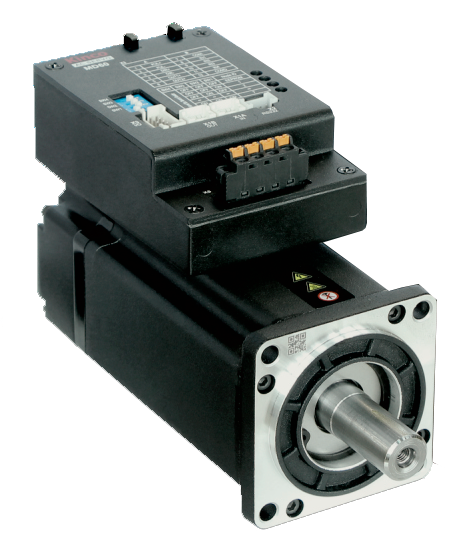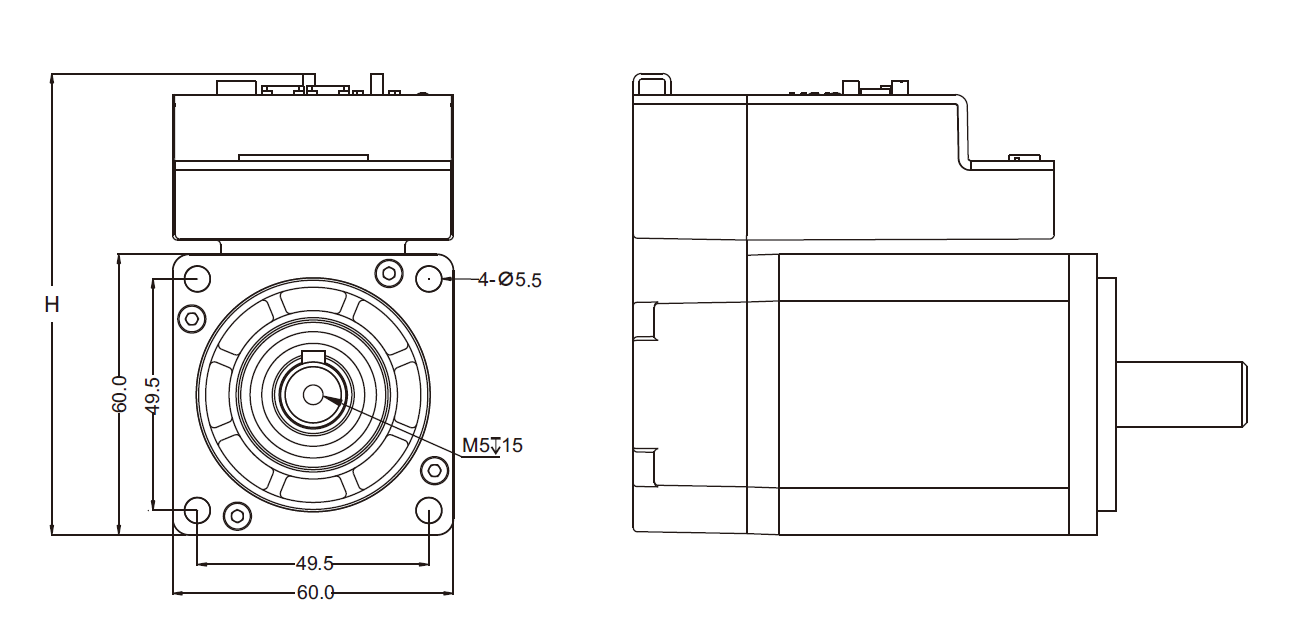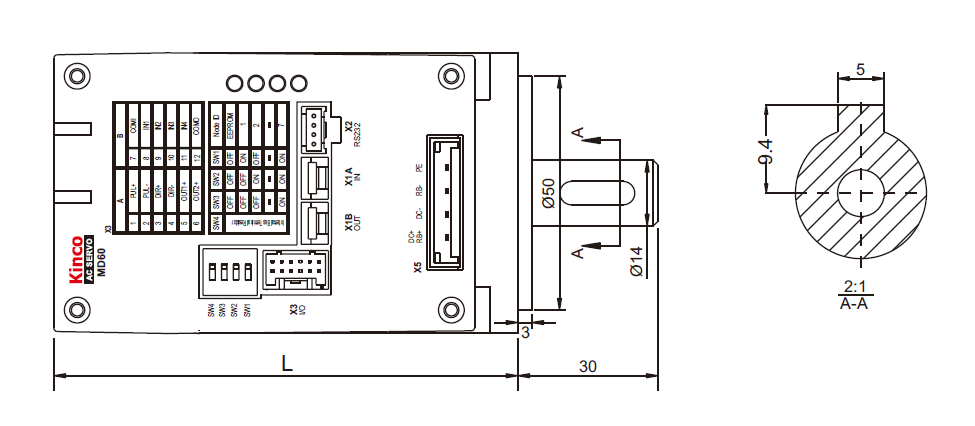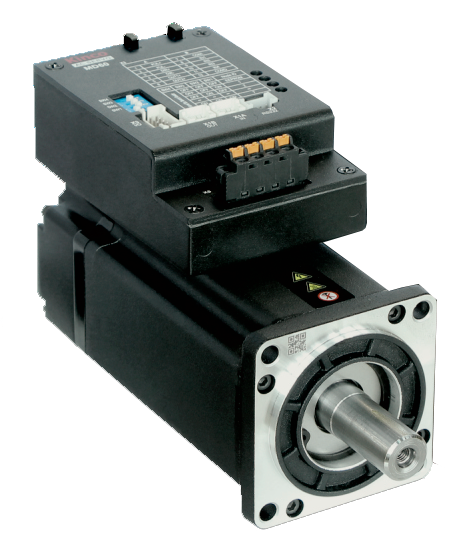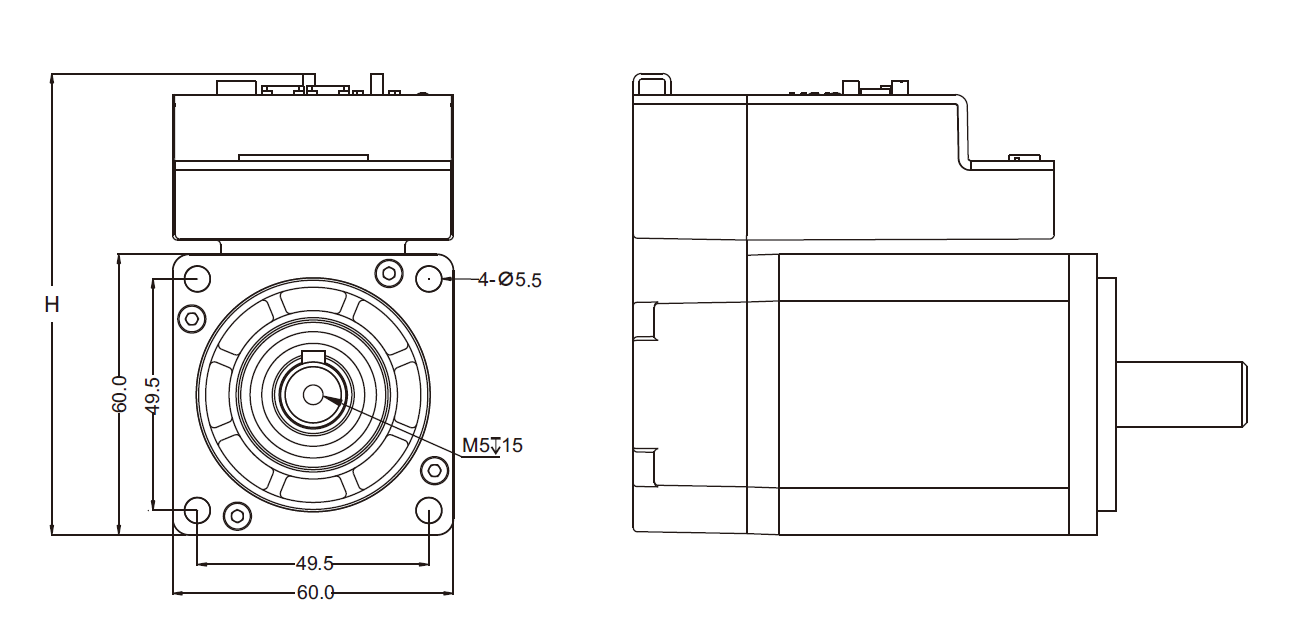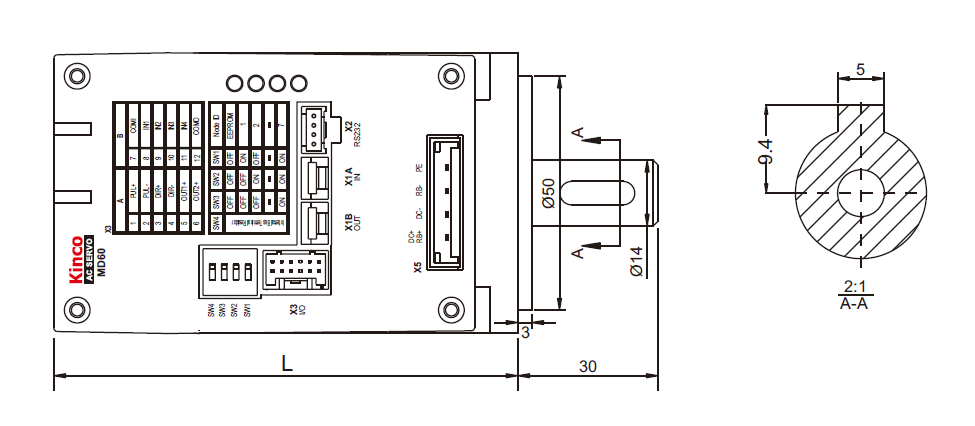 Available in 30 days, delivery time 3-4 weeks
Product information "Integrated servo axis 400 W low voltage 24 VDC - 70 VDC Kinco MD60 with bus coupling"
Servo axis 400 W in low voltage version with 24 VDC to 70 VDC with bus coupling.
This model combines servo motor and servo controller in one device.
Different models are available for bus coupling.
This device is available with mechanical brake and without brake.
.
Electrical properties
Allowable input voltage range:

24 - 70 VDC

Input current (Rated current):

10 A

Rated power:

0,4 kW

Rated voltage (input voltage):

24 VDC

Interfaces, protocols and connections
Analogeingänge (Anzahl):

keine

Digitalausgänge (Anzahl):

2

Digitaleingänge (Anzahl & Typ):

4 (24 VDC PNP)

Interfaces:

RS-232

RS-232 connector type:

Klemme (Tx/Rx)

serial interfaces:

Port 0: RS-232

Dimensions and environmental properties
Cooling:

Environmental cooling (passive)

Dimensions (width x height x depth):

60 mm x 99 mm x 100 mm

Protection class:

IP20

Temperature operation:

0 °C bis +40 °C

Wellendurchmesser:

14mm

Other properties
Beschleunigungsarten:

S-Kurve

, linear

Maximaldrehmoment:

3,81 Nm

Nenndrehmoment:

1,27 Nm

Nenndrehzahl:

3.000 U/min

Programming
Autotuning der Motorparameter:

ja

Konfigurierbar über:

Kinco Software
Manufacturer "Kinco"
Kinco
ist einer der führenden Hersteller für Automatisierungstechnik in Asien. Am Hauptsitz in Shenzhen (China) an der Grenze zu Hongkong ist auch das Forschungs- und Entwicklungsteam des Unternehmens beheimatet, zusätzlich betreibt Kinco ein Forschungszentrum in Deutschland, eine Besonderheit unter chinesischen Unternehmen.
In Bezug auf Qualität und Funktionsumfang orientiert sich Kinco stark am europäischen und deutschen Markt. Kommunikationstreiber für Siemens S7-Steuerungen sind deshalb in jedem HMI enthalten. Das Unternehmen hat ein modernes und zuverlässiges Sortiment an HMI, Antriebstechnik und Steuerungen. Kinco erwirtschaftet bereits mehr als 10% seines Umsatzes international, Deutschland gehört zu den Wachstumsmärkten des Herstellers.
Open manufacturer website
Login or Register with...
Kinco MD Servo
Datenblatt und Bedienungsanleitung des Kinco MD Servo
Kinco MD series User Manual200325.pdf

(5.84 MiB)

Kinco Servo MD60 CE-Zertifikat.pdf

(1.65 MiB)

Kinco Servo MD80 CE-Zertifikat.pdf.pdf

(1.65 MiB)

KincoServoPlus Programmiersoftware Setup V1.1.6 (build211117).zip

(5.39 MiB)

MD_Servo_Katalog.pdf

(481.39 KiB)